Joyce B. Cowin Women's History Gallery Opens at New-York Historical Society

Joyce B. Cowin

The Joyce B. Cowin Women's History Gallery opened recently with an event to honor Cowin's contribution to the New York Historical Society. Louise Mirrer, President, opened with a few remarks. "I'm really delighted to see so many of you at this wonderful celebration…and I am also delighted to welcome you to the Saving Washington exhibition," she said.
The Saving Washington exhibition allows visitors to look at the early days of the United States through the eyes of the women of the period. Books, letters, clothing, and other important artifacts will be on display to the public, part of a collection of over 150 objects. "Saving Washington upends the familiar narrative of our American founding as a power struggle among men, offering the story of Dolly Madison, and women of the early republic more generally, as an example of how women's critical but often behind-the-scenes work gave rise to the nation's capital as a beacon for the world," Mirrer said.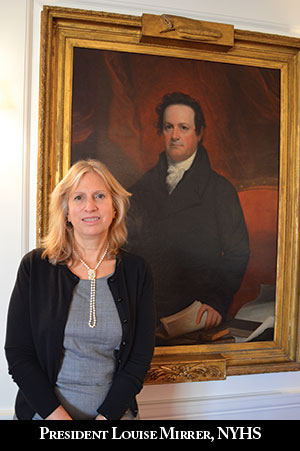 Cowin, addressing the crowd with audible emotion and pride, said, "In the end, after seeing all these exceptional persons of our country—who propelled us ahead—I strongly believe it is we the people who try to help each other if we can. We go forward—we build buildings—create schools—support hospitals—we the people go forward. Each of us will have a major tragedy in our lives. We mourn, we remember, and we go forward. We follow the rules, and some of us make the rules in the end. But it is we the people that are the driving force of this great country; we the people go forward."
Saving Washington is housed in the new Joyce B. Cowin Women's History Gallery, in the newly renovated fourth floor. Its doors will open fully to the public in late April, where it will host several programs, from conferences to writing workshops to panel discussions. Some of the upcoming events include an unveiling of the personal archives of Billie Jean King and a discussion about "Women and the White House" moderated by 60 Minutes correspondent Lesley Stahl. #
Joyce B. Cowin, an alumna of Teachers College, Columbia University, is a philanthropist and founder of the Cowin Financial Literacy Project, which aims to improve financial literacy among students.