President Joseph Polisi, The Juilliard School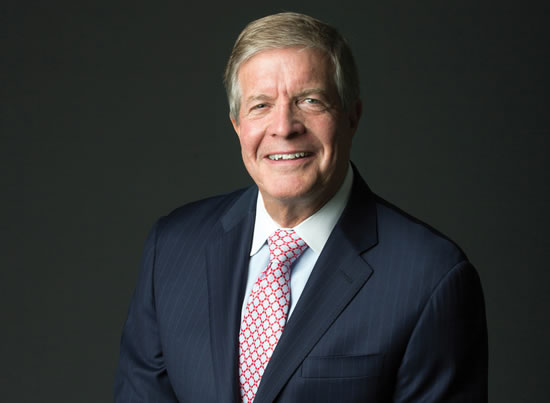 President Joseph Polisi, The Juilliard School
Nothing so captures the humanitarian spirit and goals of Dr. Joseph W. Polisi, the president of The Juilliard School, as a remark of Winston Churchill that President Polisi likes to quote. When approached not too long ago by a reporter wanting to know why Churchill had continued to support the arts instead of diverting resources to the war effort, Polisi replied: "What are we fighting for, if not for the arts." That perspective has informed President Polisi's 33 years at the helm of Juilliard, and it is reflected in a comment he recently made to Education Update, when asked about his most significant accomplishments at this prestigious institution, as he looks back at his years guiding Juilliard. Next year, he will leave the presidency, noting that it is time to pass the torch and move ahead. "I hope I have changed the environment at Juilliard," he said, "by infusing into it even more innovative programs that enhance the school's commitment to empathy, creativity and the multidisciplinary interaction of all the arts."
His vision for the arts extends beyond concern for his own institution, however. He notes that if the proposed Trump administration budget eliminating the NEA (among other institutions and funding cuts) were to be enacted, the result would severely damage the "delicate ecosystem of the arts in America." Juilliard would not be directly affected, he adds, but overall, the symbolism of such a "tragic mistake" would be significant. Not only would such a misguided move eliminate jobs, it would threaten the progress of international cultural relations, so much of which proceeds by way of exchange programs in the arts.
Positions for Juilliard graduates upon graduation may not be as plentiful as those for high-achievers in STEM, but under President Polisi's watch, curricula have greatly expanded studies in drama, dance and music, the school's signature prestigious programs. And it's not all performing arts. Increasingly, President Polisi has expanded course offerings with arts administration and teaching in mind. Also under his leadership, collaborations and partnerships have been extended and enhanced, with institutions such as Carnegie Hall, Lincoln Center and major universities. And, starting in September 2019, Juilliard will have a campus in Tianjin, China, offering a U.S.-accredited Master's degree and pre-college programs. He's delighted with this major move overseas, the first such of its kind outside New York City. With Alexander Brose, VP for Development at the Aspen Music Festival and School, as Executive Director and CEO, and with acclaimed violinist Wei He as Artistic Director and Dean, Dr. Polisi feels confident that the Tianjin-Juilliard School will be extremely successful. Courses are being designed for children and adults, and there will be major exhibition spaces. A complicated negotiation, with international and national considerations on both sides, it was worth the effort, he says.
On native ground, excitement continues with other groundbreaking achievements for Juilliard, among which Dr. Polisi cites the establishment of a major Jazz program, which has already had a "transformative" impact on the school. Working closely with Juilliard alumnus Wynton Marsalis, President Polisi created an impressive, competitive degree program open not just to jazz majors. He's particularly pleased, he says, that the program has attracted classically trained students who want to broaden and deepen their musical studies. In bringing jazz to the forefront, President Polisi points out that the school is now repositioning the importance of improvisation, a "lost art to many classical musicians." Though certainly not for Bach and Mozart, improvisation in effect disappeared with the growth and expansion of "mammoth" orchestras in the late 18th and the 19th century (think Brahms and Mahler). With such growth, compositions had to be "written down" and one result was the disappearance of improvisation, an important, extemporaneous way of making music.
For Joseph W. Polisi, being president of Juilliard is one important chapter in a lifetime spent in music and academia. A professional musician and educator, he has a B.A. in Political Science, an M.A. from the Fletcher School of Law and Diplomacy and a D.M.A. (Doctor of Musical Arts) from Yale. He is also the son of William Polisi, who was a bassoonist at the New York Philharmonic. He wound up studying under his father, but credits first his 7th grade teacher, Mr. Wolff at P.S..189 in Flushing, for recognizing the Polisi name and encouraging young Joseph to take lessons at home on the bassoon (at the time he was playing cello). Needless to say, President Polisi is a strong advocate of music for children – getting them early on to play an instrument or learn how to listen. Offerings at Juilliard reflect this abiding interest in inculcating in young people a deep appreciation of all the arts.
Since 1990, Juilliard has offered enrichment programs especially for underrepresented and underserved youngsters – "a kind of musical head start," the president says, not to mention the great number of free concerts a year the school puts on. Of course, "creating an appreciative environment at home would be ideal, with parents sitting with their children, say at the piano, if only for 20 minutes a day." But faced with the fact that the ideal cannot always be realized, Juilliard initiatives have encouraged many children, ages 8-18, who have learned to love music and music study, to audition for and attend Juilliard's pre-college Saturday program.
President Polisi also points to Juilliard's collaborations with other institutions, including Carnegie Hall and Lincoln Center. But also Barnard and Columbia. Juilliard welcomes the universities' students regardless of major who are "capable players." And he encourages Juilliard students who want to pursue various intellectual activities outside music to do so uptown: approximately 10% of Juilliard students do so.
The president has also instituted connections between post-graduates and the city's public schools, by way of encouraging Juilliard grads to teach or assist teachers. Such programs get musicians "out of the comfort zone" he says, and create professional opportunities. Not everyone studying the bassoon is going to get into a major orchestra. So, be entrepreneurial, he advises. Start your own chamber ensemble, get into tutoring, administration, put on festivals here and abroad. "Don't give up." And certainly, Juilliard students should take advantage of the school's Alan D. Marks Center for Career Services and Entrepreneurship.
As if all that Juilliard offers were not already an embarrassment of riches, President Polisi points to recent initiatives – such as online courses offered through the new Open Classroom program. In music, this means anything from music theory to performing skills to grand lectures such as How to Listen to Great Music for Orchestra, with Berlin Philharmonic performers talking about the history and significance of specific works and providing analyses with illustration --all for six weeks and a concluding certificate. He also points to the 61 episodes that now constitute Juilliard's Open Studios, a subscription-based programthat showcases the school's educational process by offering a behind-the-scenes look at classes, rehearsals, coaching sessions, productions in progress – all signaling "the school's broader commitment to becoming a global source for arts education and appreciation."
President Polisi may be leaving the Juilliard helm next year, but he clearly will be sailing in other waters with the Juilliard heritage as his visionary compass. As they said of vessels of old, Ventis Secundus. #