Seton Hall Men's Basketball Team Honors 13 year-old Will Cody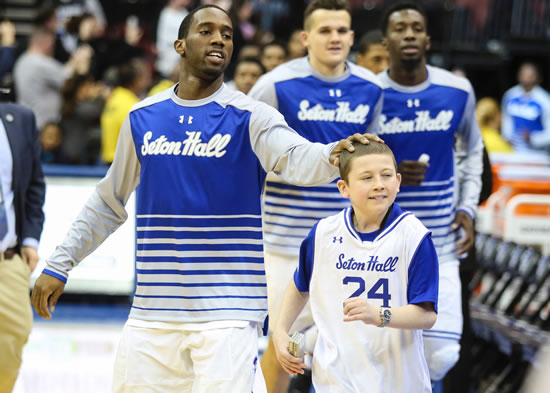 Will Cody (right)
Seton Hall men's basketball coach Kevin Willard's team showed their typical tough-minded, never quit attitude on the court in an early February game at the Prudential Center in Newark in defeating Providence in overtime 74-72. That night the Pirates also delivered that same message in real life first hand to 13 year- old Chatham, New Jersey resident Will Cody who was diagnosed with acute leukemia back in the spring.
As a special guest of Willard, Will was made to feel a part of the team for the entire evening. He presented the referee with the ball to start the game at center court, and had a seat on the bench right next to Willard getting an up close view of the coach and the team at work. Will was even presented with his own game ball in the locker room in front of the entire squad by an emotional Willard at the end of the thrilling victory. Before his diagnosis, Will played travel hockey, CYO basketball and every other activity that kids play.
"We just thought it would be great if he came to be part of our team for a day, kind of got back to team sports," said Willard, the 2015-16 Co-Big East Coach of the Year. "I think it's an important reminder to college kids, how lucky they are. I think that gets lost in college."
What didn't get lost is the effect this show of kindness has had on Will and his family. The family has continued to embrace the Seton Hall game day experience – sitting courtside for the final four games of the season. During that stretch the Pirates have won three of those games in exciting fashion and the experience has helped to uplift the spirit of the family.
"The big thing it's been a long year," said Kelly Cody, Will's Mother. "You (Will) can't do the things you used to do. It's special because it makes him happy to be a part of something that had to do with sports."
Will is still undergoing daily treatment and doesn't yet have the stamina needed for a regular routine. He has slowly started to go back to school for a few hours each week and spending time with his friends. He is still in remission and in the maintenance phase where treatment lasts about 3 years. In addition to daily chemotherapy pills he undergoes various other treatment protocols and has started physical therapy to build back up his strength.
After all Will has been through the games at the Prudential Center that have brought him closer to being able to be just a kid again having fun. Especially, at the end of the games, when the players that Will got to know during his time with the team, come over to him and make him a part of the victory celebration.
"It makes me feel really happy that Coach Willard wanted to help," said Will. #
The family has set up a go fund me site at https://www.gofundme.com/27tmbcc
In addition to being the Sports Editor of Education Update, Mike Cohen is the Founder/Director of Throwback Sports (a sports program for children of all abilities). He can be reached at throwbacksports@verizon.net