Diverse Lives - Diverse Abilities: A Film Festival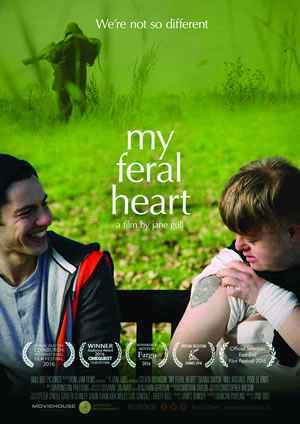 The ReelAbilities Film Festival, now in its 9th year, focuses our thinking, and our hearts and minds, on the stories and artistic expressions of people with varying abilities, made by and about people with disabilities. The NY event (it travels to over 15 other cities in the US and Canada) will be held from March 2nd to 8th at the JCC on Amsterdam Ave. and 76th St. as well as over 35 venues in the metropolitan area. In these 7 days, the audience will surely be moved by films (there will be over 100 screenings to select from), panel discussions following each - featuring the film's performers, and professionals in the particular field the film shed light on - as well as performances of dance and an art installation. Below are a few of the themes and situations the protagonists encounter - for a full listing see ny.reelabilities.org, where tickets can also be purchased (or by phone at 646 505 5708).
In My Feral Heart, a young man with Down Syndrome is thrown by the loss of a loved one, into a daunting new environment … but not without support from a feisty, streetwise caregiver, a local heir dealing with his demons, and friendships that carry him through trials bordering on disaster.
In American Veteran, we see a courageous story of survival by Army Sergeant Nick Mendes, who despite severe physical injury and PTSD, maintains clarity of mind and spirit, along with a sense of humor and purpose.
On closing night, How Sweet the Sound: The Blind Boys of Alabama will present a frank view of life on and off the road of the legendary gospel quartet, who met as children in a segregated vocational school in the 1930's and achieved success on the 'gospel highway,' culminating in the receipt of Grammy Awards.
Other themes touched on (and we will be touched by) in this moving abundance of rich themes are: the fight against use of electroshock in a psychiatric hospital, where paint, dogs and love are sought to be substitutes (Nise: The Heart of Madness); the formation of a swim team, whose swimmers are teens (from a variety of ethnic backgrounds), with autism, who compete in state and national championships (Swim Team); and a love story: a young couple, both dealing with a disability, who bribe their care worker into enabling them to experience time alone, despite the objections of those bent on keeping them apart (inclusive of the law) (Sanctuary).
The Festival can be seen at venues such as Lincoln Center for the Performing Arts, The Metropolitan Museum, many New York Public Libraries, in all five boroughs as well as Long Island, Westchester and Rockland counties. A special evening of shorts from ReelAbilities will be held at Pace University on March 23rd (at 3 Spruce St., Bianco Room - Level B) starting with a reception at 5 p.m. and screenings from 6 - 9 p.m. It will also feature a panel of distinguished professionals in the field of disability, responding to the films, with the audience. RSVP to lawlerj@aol.com (Prof. James Lawler) or call 212 - 346 - 1013 for this event. #