Music of the Spheres: Melvin Stecher and Norman Horowitz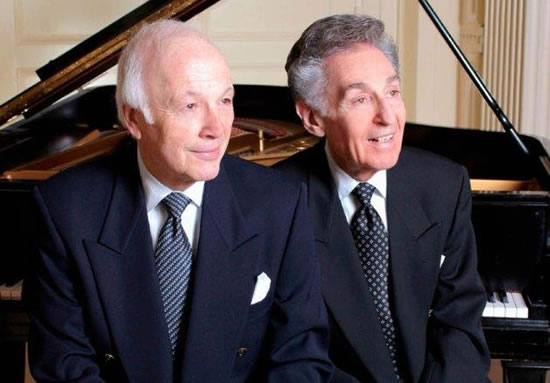 (L-R) Melvin Stecher & Norman Horowitz
Although pianists and composers extraordinaire and internationally celebrated music educators Melvin Stecher and Norman Horowitz have had numerous write ups in print and online for their unique, award-winning performances, competitions and educational innovations, they welcome acknowledgment of their continuing work with piano students of all ages, levels of excellence and dedication, especially because TV and social media have taken over the entertainment world, crowding out, if not eliminating, many classical music concerts and tours. Why Stecher and Horowitz and not alphabetically the other way around? "Well, age gets top billing," one says (won't say who), but, besides, they liked the way the order "sounded," and who would argue with that!
The dyamic duo wants to continue encouraging a culture of music study in the home largely because schools have cut back on programs. They fondly remember a time when, no matter the public school (Stecher went to Far Rockaway High School, Horowitz to Thomas Jefferson) not a day passed when there was not at least a music class. "The schools then had a chorus, a band, an orchestra." S & H realize, of course, the importance of curricular emphases today, especially in STEM fields, but they also feel there need not be competition among the disciplines, even as budget cuts prove draconian for the humanities. Enter: the model of their former music conservatory and their current New York International Piano Competition.
And, it's not all about money, they note. They doubt that many in the general public know that the Curtis Institute of Music is free for undergraduates and Yale offers free tuition for those seeking a Masters degree.
Of a certain age – "we call it having an unlisted number," they say — the music partners have been at their profession since 1951,when they met as teens and were already acclaimed soloists. They established not only their two-piano team (they were the first duo-piano attraction at Radio City Music Hall) but went on to perform in a series of sensational tours in Europe, Canada and Central and South America, and, in 1960, founded the (eventually nonprofit) Stecher and Horowitz School of the Arts in Cedarhurst, on Long Island. Their personal collaboration, especially playing masterpieces composed for two pianos, was so successful that the American composer, music theorist and professor of Music at Harvard Walter Piston (teacher of Leroy Anderson, Leonard Bernstein and Elliott Carter) wrote a "Concerto for Two Pianos" for them, a work that was premiered at the Dartmouth Congregation of the Arts in 1964. As if all this (and even more left out because of space requirements) were not enough, S & H became educational consultants to the G. Schirmer music publishing firm and wrote and edited the comprehensive, multi-level Stecher and Horowitz Piano Library, a comprehensive teaching series. The kudos continue. In September 2016 they were initiated into Sigma Alpha Iota, the international music fraternity, as National Arts Associates, the organization's highest honor.
Theirs has been a long and splendid partnership.
They each learned classical piano as youngsters and believe that learning to read and analyze music is essential and more important than only playing by ear. They struggled, as many young artists do, playing in cocktail lounges to supplement their income, moving around the country in a truck they had to buy, but eventually, mainly through learning how to set up and manage concerts around the country, they were able to clear a path to their ultimate vision – having their own school, which they started in a renovated farmhouse in Cedarhurst. For 40 years the school thrived, but when it closed in 1999, that was hardly the end of S & H. Indeed, it was merely the occasion to start something new, which they did in 2002 when they created the Stecher Horowitz Foundation's New York International Piano Competition and its series of professional programs for young artists (open to pianists of all nationalities, ages 16-21) – an endeavor they speak of as their "fourth career" (earlier in their lives they both had worked as music counselors at summer camps). As a recent article by professor James Litzelman (Catholic University of America in Washington, D.C.) puts it, "In the community of piano teachers, one would be hard pressed to find two people who are more committed or passionate about nurturing young talented pianists than Melvin Stecher and Norman Horowitz."
What sets them apart? They are, it's been said, particularly committed to developing in students a lifelong commitment to music, which meant being mentored by unusually dedicated faculty, and that meant not only hiring expert musicians but people who wanted to be excellent teachers and who would flourish in a pedagogical institute. Their faculty would not only teach but participate actively in professional associations and help create new materials. Through the years, they also expanded their idea of music education. This would include career development by way of study in business and arts management, but essentially what distinguished them and still does is their total dedication to oversee personally all their students and to support those who at first struggle. Their goal is all the more admirable, leavened as it is with wit, humor and heart.#