WOMEN SHAPING HISTORY 2017


A Woman I Admire: Elizabeth Cady Stanton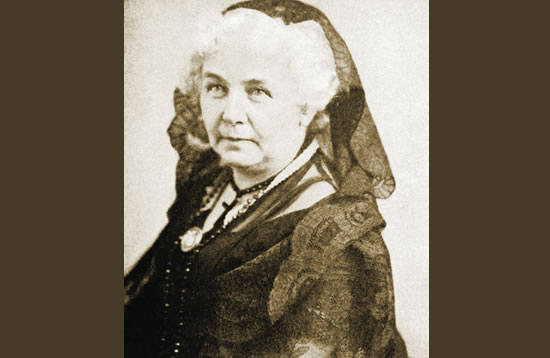 Elizabeth Cady Stanton
You see, it was 1815, a very long time ago, long before any of us were ever even born in Johnstown, New York, a gloomy-looking town that cowered beneath poplar trees. They stalked down the main street, unbending, stiff with pride. In the spring, they let loose thousands of dangling yellow inchworms, which dropped, like an obscene kind of weather, on people passing beneath. Yuck!
It was Elizabeth Cady Stanton who wanted women to have exactly all of the same rights as men, including voting. Back then in those days, it was that the husbands went off to work for the day while the wives stayed at home, cooking, cleaning, tending the children, paying the bills, whatever. I guess men could also do things like that if they wanted to. But you see, back then in those days, unfortunately, girls and women really didn't seem to count for very much like boys and men did. Elizabeth had never heard of anything so ridiculous in her whole life. Even her father wished she were a boy when she'd won a prize for Latin. Sometimes Elizabeth got to visit her father Judge Cady in his law office as he was a lawyer. Sometimes there, she was even allowed to sit in a corner of the room and listen to his clients as they poured out their problems. Often she got angry, particularly if the clients were women. Her father seldom seemed able to help women. Flora Campbell, for instance, had bought her family's farm with her own money, but when her husband died, he had willed it to their son. And he didn't take care of it. What was more, he was mean to her. What could she do? Nothing, Judge Cady replied. When she married, she became, in the eyes of the law, an "extension" of her husband. All that she owned, all that she earned, even her children became her husband's property to do with as he chose. And he chose to give the farm to a good-for-nothing son. As soon as Flora Campbell left, Elizabeth exploded. (She sure must have been mad. Like Queen Victoria, I'll bet she, too was definitely not at all even one bit amused. Oh, dear.) How could the law be so unfair? she asked. Judy Cady took down from his shelves a big law book and showed Elizabeth the law in print. There was only one thing to do, Elizabeth decided. She would cut that law right out of her father's book. No, her father said. That would do no good. Not even if she cut the law out of all the copies of the book in New York State. The law was made by legislators--all men--in the state capital at Albany, and only they could change it. Elizabeth couldn't do a damn thing about it even if she wanted to. She was stuck with that ridiculous law whether she liked it or not. Still, she had never heard of anything so ridiculous like that.
In another good book called Girls Can Be Anything, Adam and Marina were best kindergarten friends, always having lots of fun together during Free Time. Usually, Marina liked the ideas that Adam came up with, but when he began to say, "Okay, now, Marina, we will play hospital. I will be the doctor and you will be the nurse," but this time, she spoke up, "I want to be the doctor, too." "No," he disagreed with her. "You can't be the doctor if I'm the doctor. There can't be two doctors." So, she suggested, "Well, then, why don't you be the nurse and I'll be the doctor?" "No," again he disagreed with her. "That's not the way it goes. Girls are always nurses and boys are always doctors. That's just the way it is. Could I have the stethoscope, please, nurse for examining the patients?" He had already put on the white doctor costume that was in the costume box. Marina was shocked. How could her friend say such a ridiculous thing like that? she wondered. That night at dinner, she told her parents about it for some help. Her father, happy to help her, reminded her, "Of course, girls can be doctors. Your Aunt Rosa is one, a surgeon, a doctor who operates on people. That's hard work, you know, but that's just what she is." So, the next day, that's just what Marina told Adam. So, now, he believed her. Whenever he assumed all along that girls couldn't do anything that boys could do, she got some help from her parents for some best results, convincing him that girls could be anything as long as they got some good job-training for it and so could boys- good point! Now, he understood completely that girls could be anything- how true! He learned from his mistake and also...
Now, Elizabeth Cady married Henry Stanton, having seven lively children of her own. With a little help from her good friend Susan B. Anthony, she began a good battle for "Women's Rights," with enough helpful speeches. And guess what?! Pretty soon, in 1902, when Elizabeth had passed away, not only was her name forever associated with the fight for woman suffrage, but also, women were given the right to do anything that men were given the right to do, including voting, working for a living, governing, becoming doctors, building houses, driving cars, becoming street construction workers, becoming presidents, becoming airline pilots, playing baseball, there was absolutely nothing at all that women were strictly forbidden to do that men were permitted to do. And as for the men, they, too were given the right to do anything that women were given the right to do, including, cooking, cleaning, tending the children, sewing, becoming nurses, becoming school teachers, becoming hairdressers, there was absolutely nothing at all that men were strictly forbidden to do that women were permitted to do. #
Diana Bilezikian is on the faculty of Montclair State College and is a community member of Chapel Haven in Connecticut.