WOMEN SHAPING HISTORY 2017


President Michelle Anderson, Brooklyn College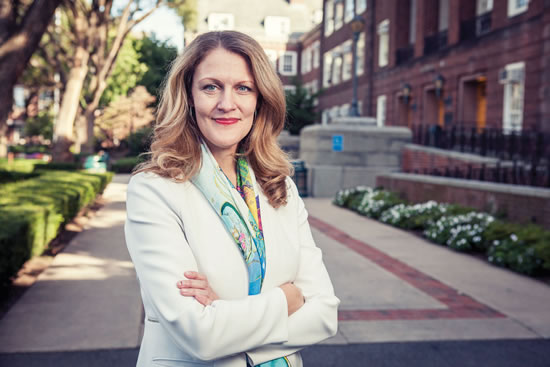 President Michelle Anderson, Brooklyn College
Brooklyn College has a new president: Michelle Anderson, a graduate of Yale Law School, who previously served as the Dean and Professor of Law at the CUNY School of Law. Her experience in law has influenced her in her new role; particularly in the early days when she embarked on a listening tour of the college. "There are procedural aspects of law that are very important for a president of a college," President Anderson remarked, adding that in particular, the idea of due process is specifically important. "People want to be noticed and have the opportunity to be heard." To hear what the people were saying, the new president spent the first three months of her tenure on a listening tour of the campus. During this period, she asked the stakeholders in the college (alumni, faculty and students) to talk about what they saw as the identity of the campus, the culture of the campus and the challenges it faces. "I think it was very important in terms of establishing credibility on the campus and also in giving me an insight into how people understand what Brooklyn College is and what it has to offer," she said. After meeting with hundreds of people, President Anderson reported on the findings, which helped all parties understand each other better.
Understanding is a key cornerstone of Anderson's philosophy. She acknowledged that she has come to Brooklyn College during an uncertain time where many students are worried about their immigration status and how that will affect their education. Anderson, along with several other college presidents, signed a letter encouraging President Trump to extend the DREAM act, which has come under fire with his administration. "Brooklyn College is a place that has served immigrants and refugees since its founding in the 1930's. It's a place that reflects the extraordinary diversity of the borough of Brooklyn," she said, adding that "American education is excellent because we bring people from around the world together." She, along with Chancellor Milliken, have released statements indicating that they will do everything in their legal power to protect the students of Brooklyn College regardless of their immigration status.
Preserving the international flavor of Brooklyn College is essential to President Anderson as she recognizes that the multi-cultural flavor of the campus is one of its strongest points. "We are an international campus," she proclaimed. She explained that at Brooklyn College, it is not uncommon to hear many different languages being spoken at once across the campus or to see students dressed in their traditional garb from home. In addition to the diverse student body, the college itself offers many international opportunities such as study abroad programs and international learning opportunities. "Our students want to go out and explore and learn in new places around the world," she said. To do this, President Anderson said that the college is working to shore up programs that encourage international learning and teaching abroad.
President Anderson is optimistic about the future at Brooklyn College. Stemming form the reports of her listening tour, she is presently working on a strategic planning process that brings the stakeholders of the Brooklyn College community together once again. "We are really working to hammer down on these goals and put them into objectives, strategic initiatives with benchmarks and outcomes associated with them," she said. In short, she hopes to bring the community together to tackle issues surrounding the academic excellence of the institution, the hiring of diverse and exceptional faculty members, and really enhancing the facilities on campus. "We want to provide first-rate teaching and research opportunities for our students and faculty through our excellent colleagues and excellent facilities," she said. With Anderson at the helm of Brooklyn College, no goal seems too big. #