GUEST EDITORIAL
Education in the Age of Trump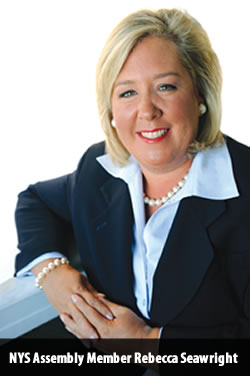 In the last Education Update, I wrote about the legislation I introduced in the Assembly that would allow persons to opt-out of state jury service based solely on age without the burden of traveling to the courthouse to make the application, similar to the federal court system. Many seniors who are not disabled still have difficulty traveling to courthouses in order to make the application for excusal. We will continue to fight this legislative session to expand senior citizen rights. Now, after the presidential elections, we are faced with many challenges to build on the progress made, and even more worrisome – what we need to do to prevent our nation from going backwards. As the new administration takes office, we are left in the dark on what the future holds for our country's education system when it comes to education policies, funding and the support needed to ensure that our nation remains competitive. There are five key questions that should concern all those who are committed to ensuring opportunities for quality education.
Will President-Elect Trump's nominee for Secretary of Education Betsy DeVos work to strengthen support for public education or seek to dismantle the U.S. Department of Education and privatize our education system?
Will the new administration safeguard and enhance funding for research, particularly for science, engineering, and health, as well as support for workforce development, early childhood education, and teacher training programs of proven value?
Will college affordability be addressed at this crucial time when families across the country are hurting in the wake of high tuitions, mounting attendance costs, and increasing reliance on student loans, or will the nation move towards creating a permanent generation of debtors?
Will high school and college students have greater access to paid and meaningful fellowships and internships that allow them to participate in our nation's economy and gain real-life work experience?
What protections will be offered to ensure full funding for Federal Pell Grants, College Work-Study Programs and loan forgiveness programs in areas of key shortages: teaching in the STEM (science, technology, engineering, and math) disciplines, special education, and nursing?
These are some of the questions that must be asked at confirmation hearings for the new Secretary of Education and the Federal Director of Office of Management and Budget. In addition to reviewing the background and qualifications of every nominee, we must hold them accountable to elaborate on the positions that the Trump administration will pursue with respect to the lifeblood of our democracy – the federal funding and support needed for public and higher education to supplement the ongoing responsibilities of individual states.
This year in the State of New York, a budget was passed that marks the largest investment in our education system so far: a total of $24.7 billion, increasing education aid by $1.47 billion, fully eliminating the Gap Elimination Adjustment (GEA), including $175 million to transform struggling and high-needs schools, as well as SUNY/CUNY tuition freeze and increased capital funding. However, there is still much more to do. Our state must close the carried interest loophole at the state level that could generate up to $5.2 billion a year, increase investment in the operating budgets of CUNY and SUNY (instead of relying on tuition), expand Technology and Career and Technical Education (CTE) Programs, continue to support Universal Pre-K, and pass the Dream Act to include academically eligible undocumented students. We must, in summary, do our part here in New York, while working to ensure that federal officials do not shirk their responsibilities. #