First 126 Fellows Will Be Funded to Take TC's Cowin Financial Literacy Program Online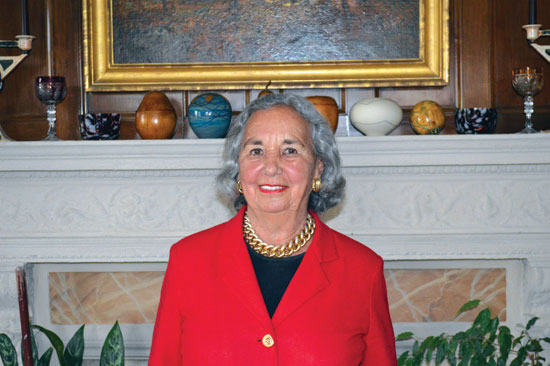 Teachers College Trustee Joyce B. Cowin
Teachers College Trustee Joyce B. Cowin wants every single American high school student to be financially literate. That's why she's funding an inaugural group of 126 Cowin Fellows to take her unique financial literacy program online.
"When the market collapsed in 2008, many wonderful, hardworking people who had saved money throughout their lives were snookered about sub-prime mortgages, and they lost their homes, their credit and their money because they didn't know the right questions to ask," says Cowin. "They were told 'Here's that home you've worked for all your life, and you can have it with a 2 percent mortgage – and your children will be able to attend a better school.' And then within the year the mortgage rates went up and they couldn't afford to pay the increased rate – and they were left with nothing. And that should never happen again."
To that end, in 2012 Cowin funded the creation of the Cowin Financial Literacy Program, which provides classroom teachers, pre-service teachers and other educators with instructional resources and strategies to teach high school students basic financial concepts such as savings, investing and budgeting. The program was developed by TC Professor Anand Marri, who is also Vice President and Head of Outreach and Education at the New York Federal Reserve Bank.
The Cowin Program is unique among the nation's numerous financial literacy programs both in focusing on teachers and in employing case studies drawn from real life. In one case study, for example, a young college student chooses her first credit card; in another case study, an immigrant couple planned for their children's college education.
"Our program is built on the principle that people learn best by doing, as first espoused by John Dewey a century ago at Teachers College," says Marri. "It also reflects TC's belief that the best way to approach any educational or social problem is to teach the teachers. That way, you're changing an entire field because each teacher touches so many lives."
More than 70 educators enrolled in the 2016 Cowin Summer Institute.More than 400 educators have come to TC for the week-long Summer Institutes of the Cowin Program, and educators in 48 states are using its course materials via free download. Now the first online version of the course will run from February 6–April 14. The course will be based upon the program's original case studies, which teach basic financial concepts through real life situations. Resources will include supplemental readings, videotaped lectures, live-streamed video discussions and expert responses to the cases.
Participants completing the 30-hour course will receive a certificate of participation from Teachers College worth three Continuing Education Units (CEUs) in most school districts. In addition, at the end of the course, participants will have the opportunity to take the certification exam offered by W!SE (Working in Support of Education), which has partnered with TC on the Cowin Program from its inception.
"I'm excited that we're taking this program into the future by moving it online," says Cowin. "We're delighted that so many teachers and program alumni nationwide are already downloading and using the case studies and other free course materials." To alumni of the program, Cowin adds: "Good luck, and we look forward to working with you to ensure that no one in the coming years will ever be snookered again."
Visit cowinfinancialliteracy.org for more information about the Cowin program and materials.#
This article was originally posted on Teachers College, Columbia University Newsroom.