GUEST EDITORIAL
Senior Citizen Higher Education Alert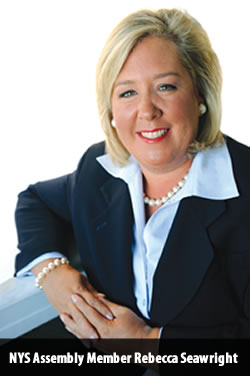 As a Member of the New York State Assembly representing the Upper East Side, Yorkville, and Roosevelt Island, I strongly believe we must support educational opportunity for all of our constituents, of all ages. This is a special alert for you about programs currently offered that you and your neighbors should be advised of and hopefully, take greater advantage of during the coming semester and year. The good news is that senior citizens may now audit courses without paying the tuition charged to credit seeking students at a number of colleges and universities within our reach. These opportunities for lifelong learning are readily available and should be more widely publicized so that our community is better informed of such opportunities. Senior citizens and their families, after all, are longtime taxpayers who deserve such programs!
Here are four contemporary examples that you can easily check out:
At the renowned Hunter College, CUNY, right on Park Avenue and East 68th Street, New York State residents 60 years of age and older may audit undergraduate courses on a tuition-free, space-available basis. Auditing students do not receive credit or grades. There is a sixty -five dollars general fee and fifteen dollar consolidated services fee. To apply and if you need help, visit the Senior Citizens Student Association in the North Building of Hunter College on the Commons Level, Room 117 or http://www.hunter.cuny.edu/ugprospects/admission/Senior_Citizen.
John Jay College, CUNY, on the West Side at 59th Street and 10th Avenue, also offers NYS residents 60 years and older the opportunity to audit undergraduate courses. There is a two course limit per semester at this premier institution that emphasizes criminal justice and public safety - so vitally important to our community, city, and society. Senior citizens pay eighty dollars per semester and can enroll on a non-credit, space available basis. To qualify, you must complete the "Fall Application" available at http://www.jjay.cuny.edu/apply-undergraduate-non-degree-student.
La Guardia Community College, CUNY, in Long Island City, right across the Ed Koch Queensboro Bridge, is known for its adult student offerings, also offers what they call a "tuition waiver" for a combined eighty dollar fee. You can access more information about their services at https://www.laguardia.edu/Bursars/Tuition-and-Fees/.
Marymount Manhattan College, a private college located on 71st Street between Second and Third Avenues, offers non-matriculating and audit classes at a discounted rate for Senior Citizens. Most classes can be taken by non-matriculated or audit students, and they are open to anyone enrolled at Marymount. Marymount offers a variety of courses in Liberal Arts, Science, Business, Communication Arts, and Fine and Performing Arts. More information on rates and admissions requirements can be found at http://www.mmm.edu/admissions/ or by contacting the office of Admission at 1-800-Marymount.
We must, of course, continue to advocate for reducing the costs of college for students and their families seeking degrees. But at the same time, senior citizens must be provided with free and low-cost educational programs that enable lifelong learning to be a reality - whether it is in the classroom, online, or a combination of both. Take a course or two and get started on the next phase of your education. The time to act is now! #