Business and Career Training in NYC Middle Schools: NYC Schools Chancellor Carmen Fariña & Exec Director Iris Blanc Speak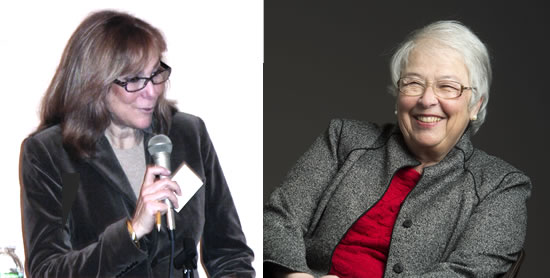 (L-R) Iris Blanc & Chancellor Carmen Fariña
Have you ever heard of a seventh grade student starting a business? It all started in the early 1990s when NYC superintendents looked to best practices at European high schools to see how school systems prepare students for the business world. Iris Blanc, the current executive director of the program, personally observed a Practice Firms program in Austria. That program was replicated in NYC and in 1996, seven NYC high schools developed their own simulated businesses under the tutelage of a faculty member and business partner.
Fast forward to this decade where over 500 high schools around the U.S. are involved in the program. In 2016 two NYC middle schools started the Virtual Enterprise Junior Ventures Career Academy (JV) program. Although the objectives are scaled to seventh and eighth grade levels, the major strength of the JV program, according to NYC Schools Chancellor Carmen Fariña, is that participants are more motivated not only in their businesses but in their overall academic work.
In the two-year middle school program, students participate in a business pitch competition, attend a college to participate in team building and public-speaking activities, take field trips to corporate offices and a business incubator, and take part in running a simulated business with a real CEO, department managers in marketing, sales, human resources, accounting, finance, and IT.
Responses from teachers were very positive. "These kids are going to be bigger thinkers. They're more ready for high school. They're talking about resumes, and they're talking about marketing strategies. They're learning a whole set of skills that are not taught in your basic curriculum," contributed Naomi Leher, VE-JV Teacher, William McKinley JHS, Brooklyn, NY.
"It was amazing to see how the students really just took ownership, how they're engaged, and to see the teamwork." I like the VE classroom structure because it provides an opportunity for much more independent learning and for students to explore on their own," said Frank Bennici, VE-JV Teacher, MS 137, Queens, NY.
What are the individual skills students learn in the program? They use Microsoft office products such as Excel to write and revise copy and create spreadsheets as well as Adobe software applications such as Photoshop and InDesign to create promotional materials and e-commerce websites, newsletters, branding (e.g., logos), video commercials and annual reports. Other important abilities students acquire include communication to present their companies as well as experience working with diverse team members.
What background do teachers need to become mentors to students? According to Fariña, teachers can come from any discipline but need the desire to be creative and business mentors. Professionals in the business world can come from outside the school to be mentors as well.
How has the program affected learning for middle school participants? Students become more professional, and self-confident in their overall work. Fariña stated, "their projects generate excitement and provide an opportunity for real-world learning."
New York Life Foundation funded the initiative. The culminating experience for students in this program will be their participation in the 2017 Global Youth Business Summit from April 3-5 at Pier 92 in NYC.#
For more information: veinternational.org/jv