The Robert Louis Stevenson School Partners with En Garde Arts for Evening of Theater and Discussion for Schools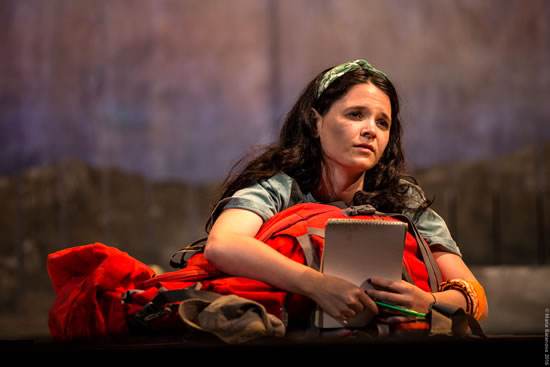 A scene from the play Wilderness
Recently, Stevenson joined forces with the En Guard Arts theater company to host a Panel Discussion on adolescent mental health and wellness following the performance of En Garde Arts' new play, "WILDERNESS." This was exciting, quite timely, and the surrounding buzz was substantial. The premier of the play was just two days later and the day before the panel, The New York Times ran a feature on "WILDERNESS" in the Arts & Leisure section.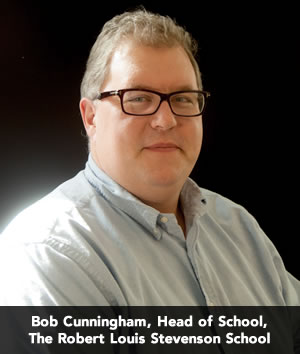 The title refers to the setting, a wilderness therapy program in the Utah desert. It also refers to the wilderness of emotions between parents and their teenagers. The characters, based on real people and events, were dramatized in an honest and authentic way. Performance, movement, music and video interviews with parents were woven together to show how the pressures and complexities of growing up in the 21st Century impact adolescent mental health and wellness.
The Robert Louis Stevenson School was very proud to assemble the panel that followed the performance. It was moderated by their Head of School, Bob Cunningham and included:
Anne Marie Albano Director, Columbia University Clinic for Anxiety & Related Disorders, Jed Foundation
Scott Bezsylko Executive Director, Winston Preparatory School
Roy Boorady Senior Director of the Psychopharmacology Service at the Child Mind Institute
Benjamin Davis Deputy Director, Ackerman Institute's Gender & Family Project
Eli Kaye-Karan Stevenson School Alumnus '16
Anne Hamburger Founder, En Garde Arts Theater Company
The discussion provided a wonderful forum for independent school administrators, faculty and staff to interact with mental health professionals, parents, students and others to discuss adolescent mental health. The results were both educational and powerful. This was summarized well by a panelist who said, "I am a better educator than I was two hours ago."
There was widespread agreement among the panelists and the audience that there are too few opportunities for this type of discussion, in part because there is still a stigma associated with acknowledging concerns exist. Stevenson is proud to lead the charge in acceptance, discussion, and treatment. As the only therapeutic school in Manhattan, our program is uniquely designed to address students' mental health and wellness issues. However, this doesn't mean that other schools can't help their students. Improvements cannot be made without first recognizing and acknowledging that concerns are real.
The play WILDERNESS provided real and multi-faceted depictions without suggesting simple solutions. Other panel discussions will be held throughout the play's New York run, which ends on November 20. Details can be found on the En Garde Arts website. A video of the October 24th panel discussion can be found on the Robert Louis Stevenson School website: www.stevenson-school.org. #
Robert B. Cunningham is Head of School at the Robert Louis Stevenson School, New York City's only therapeutic college preparatory independent school. Bob has served as Head since 2014. Under his leadership, the school has expanded and has become a leader in therapeutic education. He serves on the professional advisory board for the National Center for Learning Disabilities, is an in-house advisor for learning and attention for www.understood.org and is chief consultant at Twenty-First Century Minds. Mr. Cunningham served as Head of The Gateway School from 2004 through 2013. He also served as Chairman of CDE Career Institute, and was named Game Changer in the field of Education by The Huffington Post.