China Institute Celebrates 90 Years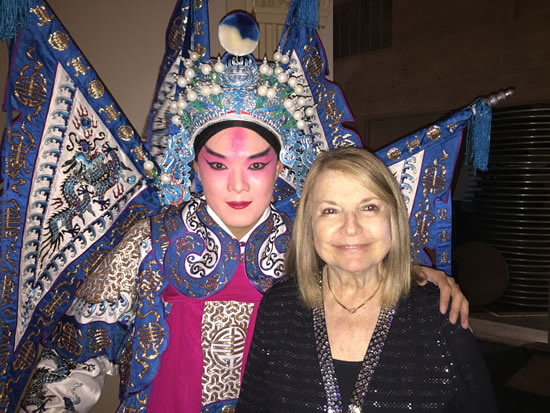 (L-R) Performer & Dr. Pola Rosen
This year, China Institute celebrated its 90th anniversary with a special gala at Cipriani featuring a reception, dinner, live auction, and special performance by Lux Shine, a troupe of Peking Opera performers. China Institute honored three guests for their role in cementing relations between the United States and China: Bob Chapek, Walt Disney Parks & Resorts Chairman; Richard Gelfond, CEO of IMAX; and Guo Pei, the fashion designer most known in the West for Rihanna's iconic Costume Institute Gala dress. "As China Institute enters its tenth decade," wrote the Gala Co-Chairs, Yue-Sai Kan and Sophia Sheng, in a letter sent to attendees, "its role as a bridge between the two most influential countries on the globe today has become more crucial than ever."
Guo Pei began her career in fashion as the chief designer of one of the first independent fashion companies in China. After ten years, she founded Rose Studio, which propelled her to international fame and gave her the reputation of one of China's most daring and prolific designers. Her style borrows elements of traditional Chinese court culture and combines them with Renaissance-inspired designs and silhouettes. In 2015, her dress caused a stir when Rihanna wore it to the Met's Costume Gala. The dress featured a golden-yellow floor-length cape and a large train with yellow fur edging.
Under Richard Gelfond, IMAX has transformed itself from a niche provider of science and nature content to a Hollywood movie force. In 2015, IMAX presented some of the year's highest-grossing blockbusters, like Jurassic World. 17 years ago, Gelfond expanded IMAX into China, merging seamlessly with the burgeoning Chinese film and exhibition industry. Today IMAX employs more than 90 Chinese nationals with offices in Shangai and Beijing, as well as nearly 341 theaters across the country.
Bob Chapek joined Walt Disney Parks and Resorts in February 2015 as Chairman. He oversees the travel and leisure businesses, including six resorts in the United States, Europe, and Asia. Chapek leads a global team of over 135,000 Cast Members, Crew Members, and Imagineers whose mission includes conjuring the special Disney magic for millions of guests per year.
China Institute was founded in New York City in 1926. It is the oldest bi-cultural, non-profit organization in the United States to focus exclusively on China-U.S. relations. China Institute offers programs, courses, and seminars on various aspects of culture such as visual and performing arts, history, music, and literature for learners of all ages. #