COVER STORY
An Interview with Ann & Andrew Tisch of the Young Women's Leadership Network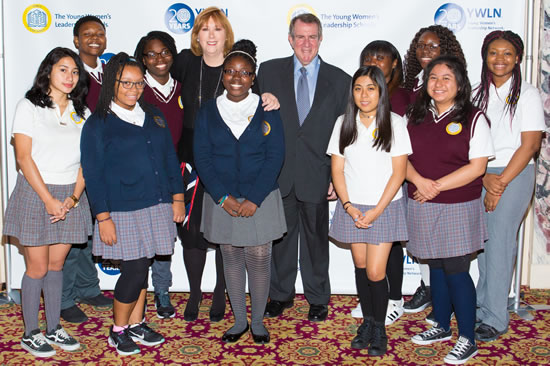 Ann & Andrew Tisch with Young Women's Leadership Network students.
In two decades, scores of young women have walked through the doors of the Young Women's Leadership Network (YWLN) and into the seats of some of the nation's top colleges and universities. What started as the first all-girls public school in three decades in East Harlem has since grown to a network of 18 schools that serve over 8000 girls nationwide.
Education Update sat down with YWLN founders Ann and Andrew Tisch to discuss the origins of YWLN,
Education Update (EU): What inspired you to start YWLN?
Ann Tisch: I got the idea when I was a journalist at NBC. I was working on a story in Milwaukee, WI about a big high school in a terrible school district. They created a day care center in the school so teenaged mothers could get their diploma. We were interviewing these young moms and one of them started to cry when we asked her what she saw up ahead in her future five years out. A light bulb went off at that point and I thought: "I don't think we're doing enough for these girls." The idea I had was to get them on a completely different path. I never forgot those kids. Several years later when I left NBC, Andy invited me to join him as "Principal for a Day.'
Andrew Tisch: I was invited to be Principal for a Day at one of our subsidiaries at which I was CEO. I invited Ann to join me at PS 223 and we were inspired. They had a fabulous principal. They were graduating from 6th grade with a good education but then they would go to junior high school and senior high school and everything would fall apart.
Ann: It's like a big black hole.
Andrew: This was our first exposure to the public education system in New York City. It was about 1991.
Ann: I had done a lot of education stories for the network and I felt I had a pretty good sense of what was going on around the nation. In addition, the American Association of University Women had just come out with a report entitled How Schools Shortchange Girls. The data showed were really not conditioned to develop girls… so the idea of an all girls environment started coming together. This was percolating in the early 90's during the forefront of the school reform movement. Dave Levin (of Knowledge is Power Program) had just come to town, charter schools were starting… all of these things were happening in school reform. I met Sy Fliegel and he really knew his way around. He had done the experiment in District Four in East Harlem and written the book. He took us by the hand and showed us what could happen.
EU: What were some of the obstacles you faced in the beginning?
Ann: There were many. First, I explored many partnerships; none of which came to fruition. The process was lengthy due to a revolving door of chancellors and board members. There was also the discussion of whether or not we should become a program because in that case you wouldn't need approval of the board. But in that case we would stay a program and we wanted to become a full-blown school. We wanted to do it right. There were a lot of moving parts.
EU: What was the reaction when the school first opened?
Andrew: When YWLN first opened we had fifty-six 7th grade girls in our school in East Harlem. On the day after the school opened, on the cover of the New York Times was a picture of a girl standing in front of the school. She must have been four and a half feet tall surrounded by nine microphones asking her about going to an all girls school.
Ann: There was much controversy. The day the school opened there was a complaint filed by the New York Civil Rights Coalition, the New York Chapter of NOW and the ACLU on the basis of discrimination against boys. I'm happy to say that just last summer, we received word from the Justice Department that the complaint had been dismissed. Nearly 20 years later!
EU: Why did you choose an all girls school? What are some of the advantages to a single sex education?
Ann: First, I am a product of public education. I believe in it. But I think in order to save public education we must offer parents and students choices. It's not for everyone but it should be an available option. To your second question, college professors will say that in their larger lecture courses they can tell which girls went to an all-girls school due to their lack of shyness and their participation. I think the distractions in high school and middle school are significant. How many times do we see the young women who start out as fierce little people "dumb down" because they want boys to like them? In our schools the girls don't have to worry about fashion or makeup or boys… they just come and do their personal best. We thought "why don't we offer these girls the same path the girls have at Spence or other affluent schools?" And that path includes elementary, middle and high school and they know they're going to college. There's no say about it. At our schools, our young women know it isn't IF they will go to college- it's where.
Andrew: When you raise the expectation for children they will rise to meet it.
EU: YWLN has raised more than 300 Million in scholarship money. How do you get the colleges to contribute?
Ann: After our second year, we went up about 200 students. It was like having triplets. At that time I was starting to think about college. I had an elaborate, complicated scheme to raise money. But one day I was having breakfast with a friend of mine who used to be the head of the Spence School. She had taken an early interest in our school and I told her my idea. She shook her head and told me all I needed was a great guidance counselor and the rest would fall into place. She was right!
EU: How important is the guidance counselor?
Ann: Essential. College guidance is the real turning point. I hired a college guidance councilor who was at St. Agnes, a Catholic boys school in the Bronx. He had a record of sending all his boys to college. He came to work with us with a caseload of 55 and it was great. He knew his way around financial aid. I knew he was going to have a profound effect on juniors and seniors, but I had no way of knowing the impact he'd have on the whole school; the trickle down effect. When kids see their neighbor across the hall getting into college it creates a culture of success. So this eventually became the College Bound Initiative (CBI), which is now in 36 NYC public schools and serves more than 18 thousand students.
Andrew: There is no licensing in college guidance. Generally speaking anyone could call themselves a guidance counselor. With CBI, all the counselors are CBI employees instead of the districts'. They can't be pulled off to sub for gym. This person does everything a college guidance counselors is to do: SAT prep, essays, college visits, financial aid night, the whole thing. They go through a rigorous training program with us.
Ann: But they already come to us highly qualified. Many of them have worked in college admissions and decided to come to the other side and work with us. They are much more highly trained than the average DOE councilor. The average caseload is 441! Ours don't take any more than 85-90 students. CBI students go to college at more than twice the rate of their peers and they graduate college at a much higher rate. Colleges know that investing in a cohort of CBI graduates will be a good investment.
EU: What words of encouragement would you give to someone who cannot attend YWLN?
Ann: Whatever is happening on the outside is not your fault and there's nothing you can do about it. So when you walk into that school building be selfish, be focused and make it all about you. Get educated any way you can. Grab that education and stay focused. Do not leave school or change schools because of a boy. Keep your eye on the prize and the prize is you.
Andrew: And speak up!#