Honoring Founders Ann & Andrew Tisch at (Em)Power Breakfast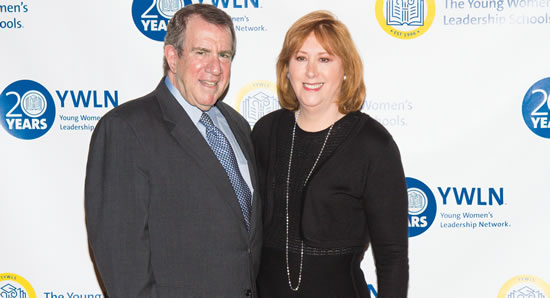 Ann & Andrew Tisch
Recently, The Young Women's Leadership Network celebrated 20 years of success at the annual (Em)Power Breakfast honoring YWLN founders Ann and Andrew Tisch at the Waldorf Astoria. Nearly 1000 guests gathered together to celebrate two decades of the Tisch's vision, dedication, and perseverance that has led to the academic success of over 8000 young women.
The breakfast kicked off with opening remarks delivered by Laura Rebell Gross. Gross is the Director of Girls' Education as well as the president and co-founder of Young Women's College Prep in Rochester, NY; a school Gross started in the image of YWLN. Gross shared some exciting updates regarding new classes at YWLN in coding plus news that over 40 students were able to attend a United Nations Event with Michelle Obama just weeks prior.
After some words from the two Mistresses of Ceremonies, 7th grader Melodie Whiting and 9th grader Madison Abreu, the digital dance team presented a lovely performance during a montage that showcased Ann and Andrew's many contributions to YWLN.
Jemina Bernard, Executive Director of YWLN, spoke next and highlighted some encouraging stats. According to Bernard, YWLN students enroll in college at twice the rate of their peers and earn bachelors degrees at four times the rate of their peers.
The second part of the breakfast, aptly titled "Our Recipe for Success", presented the many principals, teachers and Directors of College Counseling responsible for YWLN's success. Representatives from affiliate schools, some from places as far-reaching as Austin, Texas and Chicago, Illinois, were also present. A host of YWLN alumnae came to the stage as well and shared what they were up to presently; many are pursuing Masters and Doctorate degrees.
To usher in the next part of the ceremony, past honorees Sherrie Westin, Executive Vice President of Global Impact and Philanthropy at Sesame Workshop, and Tory Burch of her eponymous billion-dollar fashion line took the stage. Both showered praise on Ann, Andrew and YWLN. "I'm in awe every time I come. You're making such an important difference in these girls' lives," added Burch.
Charlotte and Sarah Tisch, Andrew and Ann's daughters, stepped up next to introduce their parents. "We haven't lived a day without the Young Women's Leadership schools being part of our lives," said Sarah, who went on to share stories of attending the first graduation at age 6. Both shared how proud they are to have such accomplished and visionary parents.
Finally, it became time for Andrew and Ann to accept their awards. Andrew spoke of how 23 years ago, Ann approached him with an idea for the first YWLN school. "It was her belief in what she was doing and her perseverance that the first school opened," he said, "and it was her creativity in problem solving and managing conflict that kept her moving forward and on a mission." Ann spoke next and expressed that she felt "nearly speechless". She thanked Andrew for his continuous support. "Andrew accomplishes more in one day than most people accomplish in 10," she said. She also thanked her staff, producers, the board and their family.
The breakfast culminating in a moving performance by singer-songwriter Lydia Warr, who is a YWLN graduate and has since gone on to perform on Broadway and various national tours. Warr's uplifting voice, joined by the Young Women's Leadership School of Queens Choir, looked joyously toward the next 20 years of YWLN to come. #