Deborah Shanley Named Lehman College School of Education's Interim Dean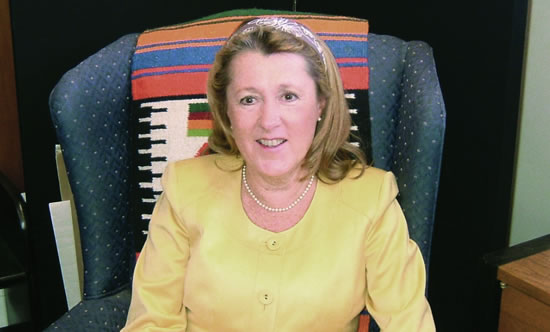 Deborah Shanley
Dean Deborah Shanley arrives at Lehman College as the School of Education's new Interim Dean with an impressive track record as a CUNY educator, including a 16-year stint as Dean of the School of Education at Brooklyn College.
Shanley is succeeding Dr. Harriet Fayne, who was recently selected as Interim Provost and Senior Vice President for Academic Affairs. Shanley's 42-year career as an educator includes her early years as a 7th to 12th grade teacher in Miami and Brooklyn, her time as a CUNY faculty member, and then as Dean at Medgar Evers College in Brooklyn. She was appointed Dean at Brooklyn College in 1998.
Her wide ranging professional accomplishments include leading a faculty team at Brooklyn College through two successful accreditation visits and restructuring the School of Education into four departments. "I bring both experienced leadership skills in a shared governance model and the skill of empowering faculty, staff, and students," she says. "I bring a love and commitment from lived experiences to our profession and to the children, youth, and families of this great city and beyond."
At Medgar Evers, Shanley was the founding dean of the School of Liberal Arts and Education and was able to implement a new school structure proposed by the college's president and supported by the faculty. During that time and before online courses were available, Shanley brought two undergraduate special education classes to CUNY students through public television and radio. The classes were wildly popular with both students and the general public and were even translated into Chinese.
Beyond her work as a CUNY educator and administrator in New York City, Shanley took a series of international summer assignments in Japan, Cuba and Thailand, and was part of the CUNY Sino-American Exchange Project. As a needs assessment leader for a CUNY Project in Vietnam, she worked with Reaching Up Inc., a non-profit led by John F. Kennedy Jr. and Dr. William Ebenstein from CUNY. In addition, Dean Shanley was part of the Medgar Evers team in Sierra Leone, where she co-led a team that worked with universities on a rebuilding effort in the West African nation, after the unrest of a long-running civil war, and the nation's first democratically elected president in 1996 under the leadership of Ambassador John Hirsch.
Shanley's interests and accomplishments led to her work as an appointed Commissioner on the Second Century Commission for the National Parks, to her appointment as co-chair of the Floyd Bennett Field Blue Ribbon Panel commissioned by Senator Charles Schumer. A detailed report by the panel was released in 2011 that made recommendations about the park's future and many of those recommendations have been implemented. She remains an active member of the National NPS Education Advisory Committee, the Northeast Region National Parks Conservation Association and served on the Planning Committee for their first Learning Summit in D.C. in April 2015.
For more than 15 years she has served as chair of the Colleges of Education group, for the Council of the Great City Schools and on the council's executive board. Shanley also serves as Past Chair of the executive board and Governing Council of the National Network for Educational Renewal She is currently an executive board member on the Middle School National Consortium, a member of Regent Lester Young's Blue Ribbon Committee on Improving the Academic Outcomes of Young Men of Color and chairs the Achievement First Board in Brooklyn, one of the city's top performing charter schools.
"We are excited and thrilled to have Deborah Shanley as our new Interim Dean for the School of Education," says Harriet Fayne. "The breadth and depth of her experience as a CUNY educator will provide Lehman with the kind of leadership necessary to continue our mission of training and facilitating the development of competent, caring and qualified teachers."#