Human Rights Advocate Sam Koplewicz in Beirut on Satter Fellowship
Sam Koplewicz has dedicated his life to human rights. After graduating from Brown University with a concentration in Public Policy, Sam traveled to Croatia as a Fulbright Scholar and eventually went on to study at Harvard Law School. Upon his recent graduation, Sam became the recipient of a Satter Human Rights Fellowship, designed to support and promote human rights defense in response to mass atrocity or widespread and severe patterns of rights abuse. Sam just moved to Beirut, Lebanon as part of the fellowship to work with Human Rights Watch on media advocacy around the Syrian Conflict.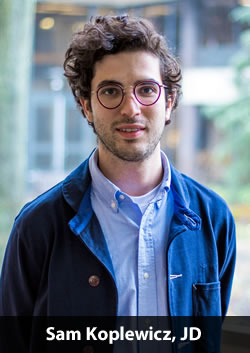 Throughout his life, Sam has had a plethora of experiences in human rights advocacy. At Harvard, Sam was part of and served as president of the Harvard Law Documentary Studio, a campus community dedicated to producing documentaries that explore social and policy issues. During his time with the studio, Sam traveled to the Greek island of Lesbos and shot a short documentary focused on the plight of unaccompanied minors that crossed the border into Greece from the Middle East. The refugee and migration crisis is something Sam is particularly passionate about. "What's unfortunate is that these people are suffering legitimately and escaping to save their lives. It's happened throughout history and the truth is humans have not always been great at dealing with it," he underscored. While the film is not available for public viewing just yet, it was shown this past April at a film festival at Harvard and again at a conference in Croatia. As a human rights advocate, Sam praised the benefits of film over other mediums. "I think that film and media is inevitably becoming the more important part of the way we interact in the world," he said.
In addition to his work internationally, Sam has also battled issues closer to home. While a student at Harvard, Sam was part of Reclaim Harvard Law School; an organization comprised of both students and staff that pushed for institutional change. One of the group's prime issues was the rising cost of tuition. According to Sam, the average Harvard Law School student will graduate with close to $200,000 in debt while the cost of tuition is rising 3.6% over inflation annually. "You're getting wonderful things from a Harvard education but when you're coming to be educated for the purpose of doing good and you have this level of debt there's very little choice in what you can do," he explained. While many of the group's demands have yet to be met, Sam was part of one great success: the removal of the Royall family crest, which was the seal of the Harvard Law School. While the move was mainly symbolic, it was the start of important change Sam hoped to implement.
Regarding his upcoming endeavor with Human Rights Watch, Sam expressed excitement at the possibilities in store. "I'm looking forward to try to help with what Human Rights Watch is already doing… which is turning really solid investigative research with an understanding of the legal framework and presenting it through media that are more accessible to more people," he said. #