Hunter College President Jennifer Raab Honored by Committee for Hispanic Children & Families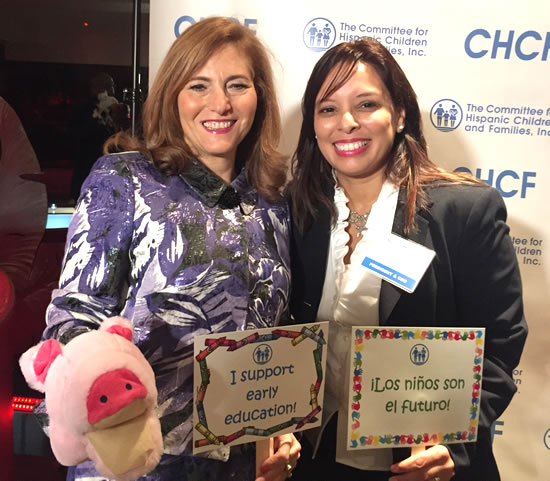 (R-L) Hunter College President Jennifer Raab & Grace Bonilla, CEO
Hunter College President Jennifer Raab was honored at the Eighth Annual Luncheon "Abriendo Puertas para Mujeres/Opening Doors for Women" which was held at the Copacabana in New York City. Every year, the Committee for Hispanic Children and Families (CHCF) celebrates women in the business and nonprofit community whose passion has brought about significant change in the industry, and who have served as inspirational role models to the next generation. Funds raised during the Luncheon are earmarked to support CHCF's Early Care and Education Institute, which offers family child care providers with professional development, connects parents with quality child care services, and invests in advocacy for providing quality education to young learners.
"I am deeply moved to be honored by an organization that has done so much good for so many people," President Raab said, as she took the stage to thunderous applause. "We at Hunter College share the Committee's dedication to educating children, your commitment to starting education at an early age, and your insistence that English language learners never be left at a disadvantage. At Hunter, where one in five students is an immigrant, we know that this country takes its greatness from the diversity of its people. We at Hunter believe in the American dream and we are committed to making it come true."#
Jennifer Raab is the 13th president of Hunter College. A graduate of Hunter College High School, Raab is a Phi Beta Kappa graduate of Cornell University. She holds a Master's in Public Affairs from Princeton University and a law degree cum laude from Harvard Law School.