12 Year-Old Crowned NYS High School Chess Champion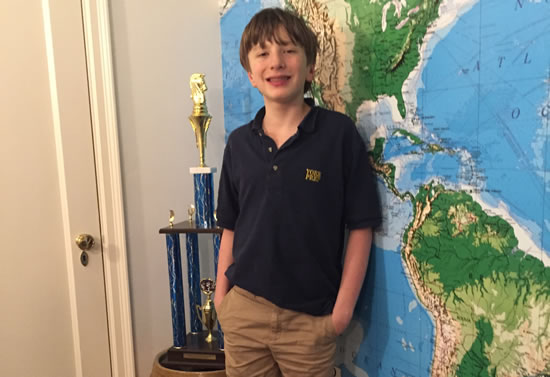 Alec Soiefer's only focus was his next move. It was the final match of the New York State Chess Championship, High School Reserve Section, in Saratoga Springs back in March. After surveying the chess board for a couple of minutes, Alec made his play. Queen to C6. Then came the moment he had hoped for all day: "Check mate," said Alec.
As Alec stepped away from the board, he began to realize that as a 12-year-old, and only in 7th grade at York Preparatory School, he was now a chess champion at the high school level.
"It feels great," said Alec in a quiet voice, as a big smile appeared on his face. "I just won this tournament. I just feel really proud of myself. Like all my hard work paid off."
Alec began playing chess when he was 9 years old. At that time, a teacher at his former school recognized that Alec had the talent to be a good chess player and recommended a program that was run by the school. He had played chess for fun with some friends but had never considered it to be a discipline that could be taken seriously. Growing up in Manhattan, Alec had been around culture that stimulated his imagination. He was a very good student, especially in math. When he started playing chess and studying the game, it turned out to be a perfect fit for him.
"I enjoyed it," said Alec. "I like the academic challenge."
Alec entered his first tournament in fourth grade, six months after joining the school chess club. He is very active and enjoys playing basketball, baseball and other ball games with his friends and coaches at Throwback Sports, where he has been a participant since he was 5 years old. He also has an interest in exercising. Alec makes up many of his exercise movements himself and likes to monitor his level of fitness on his iPhone. Still, with all of this, his focus has been on participation and not on competing against other kids. None of this seemed to matter in his first chess tournament. He took home first place.
"I felt slightly nervous that I had never played in a tournament before," said Alec, "but I felt ready and confident, too."
Alec's confidence continued to rise as he became more familiar with the game. In addition to playing in as many tournaments as he can, he participates in on-line chess games and taking lessons. He has also joined a chess club.
"It's been enjoyable," said Alec, "and I feel like I've gained a lot from it all."
Alec has more than gained a lot. He is continuing to improve seemingly by the day. When he won all of his six matches at the state tournament, every game was against a more experienced player with a higher rating. In his final victory to secure the N.Y. State title, he won in only 15 moves. He came away again victorious in his next tournament in April at All Souls Church in Manhattan.
"He has truly become a champion," said Shernaz Kennedy, founder of Top Level Chess, tournament organizer, and one of the most accomplished Indian female players. "Not only did he win 6:0 at the State Championship but he won our Championship division, first place, also."
What does the future hold for Alec in chess? Alec wants to keep playing and "get better and better," he said. But long term projections? That's just not Alec's style.
"I don't like ridiculous goals," said Alec, "like 'best in the world' or 'Grandmaster,' because I feel like if I don't make them, which is the probable event, then I just feel disappointed. If the events happen or don't, so be it. I just love paying the game of chess." #
In addition to being the sports editor at Education Update, Mike Cohen is the founder/director of Throwback Sports (a sports program for children of all abilities) and a frequent contributor to TAP into Westfield (NJ). He can be reached at throwbacksports@verizon.net