The Museum of Moving Image Showcases Movies and the Making Of Them in Duo Exhibits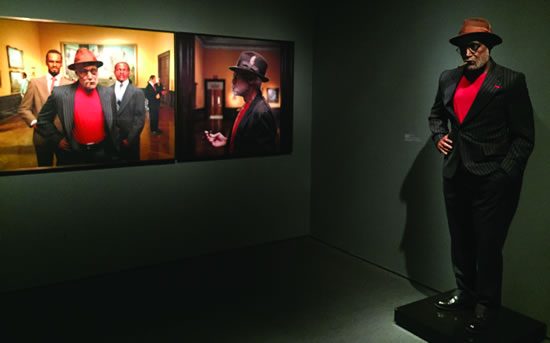 Incognito and the Baltimore Series by Isaac Julien
Since 1988, The Museum of Moving Image has produced thought-provoking, eye opening, informative and entertaining exhibits rooted in the art, history, technique and technology of film, television and other digital media. Assisted by Public Information Manager Tomoko Kawamoto, Education Update was granted an exclusive tour of "Walkers: Hollywood Afterlives in Art and Artifact", a fantastic exhibit that was displayed from November 2015 through April 2016. The multimedia filled exhibit included 11 zones filled with paintings, sculpture, photography, video installations, and music to showcase movies. Also displayed were various memorabilia, scripts, original posters, lobby cards and other artifacts.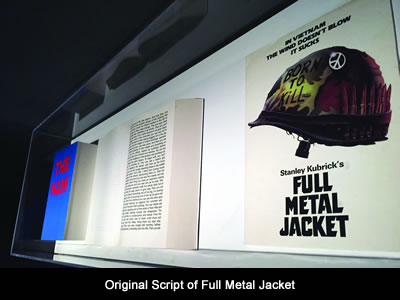 The zones, cleverly titled "Still Lives", "Dial M for Meta", "It's Good to Be McQueen", and "The Big House", among others, each showcased a different aspect of film history. The section entitled "Heart of Darkness" told the interesting story of Orsen Welles's never realized "Heart of Darkness". The Joseph Conrad novel inspired Welles so much that he wanted to bring the novel to the big screen but budget problems prohibited him from doing so. Instead, he made Citizen Kane. It was eventually Francis Ford Coppola who reimagined "Heart of Darkness" as the monumental Apocalypse Now. Richard Mosse's images of the Congo on 16mm stock were especially intriguing to view.
The "Wax Works" section featured the stunning "Incognito", a human sized wax figure constructed by artist Isaac Julien in 2003. Based on William Holden's reference to "waxworks" being the gathering of silent-era movie stars at Norma Desmond's card table in Sunset Boulevard, Julien created the Baltimore Series which showed director Melvin Van Peebles interacting with said dummy. The photos alongside the wax figure were wonderful to observe. A favorite display that mirrored Julien's work was the full wall of Richard Prince's You Bet Your Life which conjured the comedian Groucho Marx in a Constructivist-style assemblage of shapes.
Other artifacts that were fascinating to behold included the original press kit for Stanley Kubricks Full Metal Jacket, lobby cards from The Canary Murder Case from 1929 and the main title camera art for The Big Steal.
A floor below "Walkers…" was, and still is, the ongoing exhibit "Behind the Screen". This exhibit, considered the core exhibition at the Museum of Moving Image, offers viewers an eye opening peek behind the curtain of media making. Approximately 1,400 artifacts fill the exhibit from vintage equipment, old materials for visual effects, original props, impressive collections of licensed merchandise and more. The exhibit also includes commissioned artwork. One of the stand out pieces is the stroboscopic zeotrope that uses 97 sculptures rotating on an armature entitled Feral Fount by Gregory Barsamian.
This part of the museum is highly interactive with many computer-based experiences. When EU toured the exhibition, students were flocked to the computers where they could create animations and add music to scenes from movies. One particularly popular attraction was the flip book – visitors are able to record their movements as a sequence of still photographs and print them out to make a flip book.
The exhibit is highly educational and a valuable display for those interested in the history of television and film. Vintage televisions, cameras and equipment are arranged for viewers to observe and explanations are provided for each section.
Overall, the Museum of Moving Image is a must-visit for anyone interested in film, television, or media in general. Ann and Andrew Tisch are the founders of this spectacular museum. #