Patrick J. Kennedy Fights For Mental Health Reform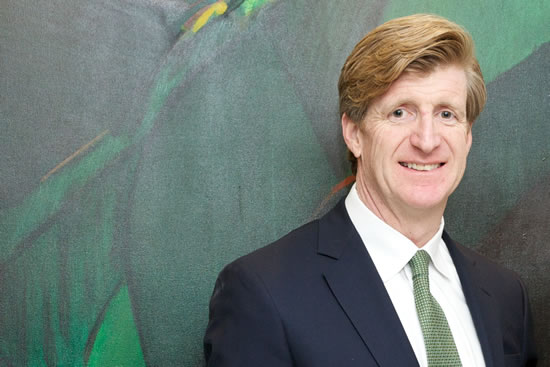 Patrick J. Kennedy
This spring marked the opening of the Columbia-Smithers Addiction Treatment Program at ColumbiaDoctors Midtown. The $7.1 million gift from the Smithers Fund for Alcoholism Prevention and Recovery, Inc, provides endowed support for clinical care, education and research in alcohol and substance abuse treatment. Dr. Jeffrey Lieberman, M.D., Chairman of Psychiatry, Columbia University Medical Center and the Honorable Patrick J. Kennedy hosted the momentous occasion.
A former member of the U.S. House of Representatives, Kennedy is considered the leading voice in the nation on mental health, addiction, behavioral brain disease and related reform.
Kennedy, who has been public with his own battles with alcoholism and addiction, has devoted his life to helping those with mental health disorders, and in particular addiction. He has utilized a variety of platforms to spread his message from the classrooms to Congress. In 2008, Kennedy was the primary sponsor of one of the largest government outlays in american history when The Mental Health Parity and Addiction Equity Act (MHPAEA) passed as a measure in a $700 billion financial bailout bill. In 2015, Kennedy published his groundbreaking book "A Common Struggle". In it, he traced the history of the modern mental health movement and offered some solutions to bring about reform.
At Brown, where Kennedy accepted a two-year appointment at the Brown Institute for Brain Science in 2012-2013, he delivered lectures focused on advocacy. "I posed to my students: how do we advocate to accelerate brain research? It is so crucial but it's also like the Tower of Babel- there's 'addiction' in one corner, 'eating disorders' in another, and 'PTSD' over there, and so on… there's no common agenda," said Kennedy, adding, "the mission of the course was to elicit from these smart kids what their ideas were on how to convey a message that will advance a more enlightened public policy toward bringing all these groups to the same conclusion. We are stronger together than divided."
Kennedy said there is nothing more important than implementing early intervention before psychosis. "If we intervene early then we can interrupt the cycle of pathology" he said, "…Dr. Lieberman has been developing a methodology through prodromal research to determine when to intervene." There are several biomarkers that can be observed in this research including family history along with MRI scanning and imaging.
For the past three years, Kennedy has been leading The Kennedy Forum, which he says has opened his eyes even wider: "there's a miles long and miles deep vacuum… there's such a hunger for us to fill this vacuum with some thought leadership." The Kennedy Forum agenda can be broken down into the following points: payer accountability (which means "getting insurance companies to pay for these services"), getting providers to start adhering to outcomes based metrics, integrating with overall health, utilizing technology and prevention. With these principles, The Kennedy Forum aims to set a new standard for the future of health care in the United States.
Kennedy most pointedly spoke of how the only way to truly enact change is if we start with veterans. "There is a historic hangover of the old world view… of the ingrained puritanical view that alcoholics and addicts must have made the choice to become that way," he says, "but veterans occupy a different place in society." He added that those that serve in the military are faced with physical and mental trauma in some capacity every day while serving and veterans have higher rates of depression and suicide than other groups. He asked, "if we can't do it for veterans how can we do it for anyone else?" Kennedy noted the number of Fortune 500 companies that speak publicly about the importance of hiring veterans. "They can't hire them and not have a benefit plan that covers their invisible wounds of war," said Kennedy.
Despite his challenges, Kennedy is optimistic about the future of mental health care and commented that younger generations are less "hung up on stigma" which signals a potential turning point. But still, Kennedy is hoping for a "breakthrough moment" for mental health reform, "…we need to find our moment to galvanize America," he said. #