Karen He Wins Art Award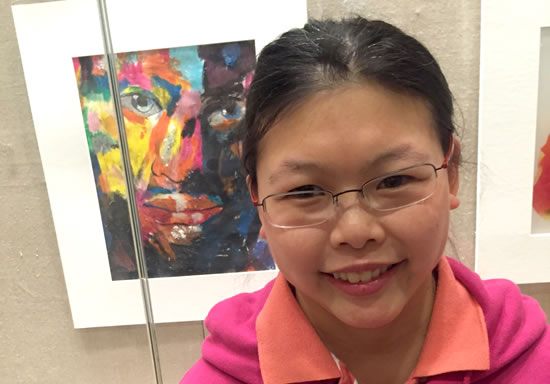 Karen He stands in front of case displaying "Sad Man."
Recently, Karen He, grade 12 at The Child School in NYC, was one of the winners at the Scholastic Art & Writing Awards held at the Metropolitan Museum of Art. Her painting, called Sad Man, won a Gold Key for drawing and illustration. Her educator was Yang Zhao.
This exhibition features more than six hundred works of art and writing by New York City teens who received the highest regional recognition in the 2016 Scholastic Art & Writing Awards—the Gold Key Award. Presented by the Alliance for Young Artists & Writers, the Art & Writing Awards are the longest-running and most prestigious recognition program for creative teens in the United States. The Metropolitan Museum of Art is honored to host this year's exhibition and celebrate the creativity of these young artists.
This year as many as 3,500 students in grades seven through twelve submitted more than 13,000 works to the New York City region of the Scholastic Art & Writing Awards, encompassing more than 300 schools in all five boroughs. In addition, 150 literary and visual-arts professionals served as judges, selecting works based on originality, technical skill, and the emergence of a personal voice or vision.
The Alliance for Young Artists & Writers' mission is to identify students with exceptional artistic and literary talent, and present their visionary work to the world through exhibition, publication, recognition, and scholarship. Established in 1923, the Alliance's Scholastic Art & Writing Awards brings the work of young people to regional and national audiences. Former recipients include artists Andy Warhol, Cy Twombly, Kay WalkingStick, and John Baldessari—all represented in the Met's collection—and writers Sylvia Plath, Truman Capote, Myla Goldberg, and Joyce Carol Oates. #