Youth and the New York State Criminal Justice System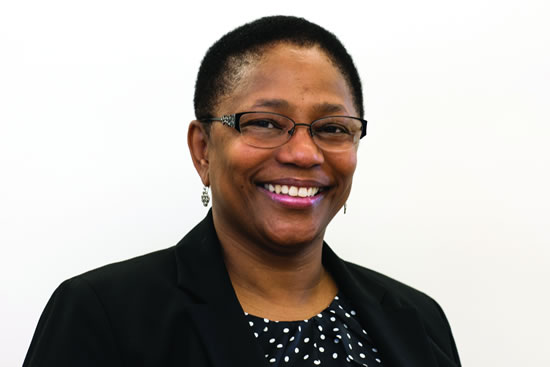 Jacqueline Ebanks, Executive Director of the Women's City Club of New York
The Women's City Club of New York, in partnership with Citizens' Committee for Children & Correctional Association of New York, presented a panel on Youth and the New York State Criminal Justice System. Moderated by the Reverend Dr. Emma Jordan-Simpson, speakers included the Honorable Monica Drinane, supervising judge in Bronx Family Court from 2009 to 2014, and Venida Browder, the mother of Kalief Browder. Additional speakers included Anjelique Wadlington, Dr. Jennifer March, and Soffiyah Elijah.
The panel opened with remarks by Ms. Browder, who spoke about her son, Kalief, who committed suicide after spending three years' at Rikers Island. "Once he got arrested he entered a nightmare," Ms. Browder said. When he returned, she said, Kalief was paranoid; he took to pacing the four corners of their driveway, which was roughly the same size as his cell in solitary confinement. "He was charged with robbery," she said, "but he was the one robbed."
Dr. Jennifer March, the Executive Director of Citizens' Commission for Children, stressed that science supports the fact that children aged 16 to 17 do not have fully developed brains, leading to poor impulse control and decision-making skills.
New York is one of two states, the other being North Carolina, that automatically charge 16-17-year-olds as adults. "There is no justification," Judge Drinane said, "no reason, no moral sense, as to why we're treating minors like they're adults." She urged legislators to "have the will to change this status quo" that targets children, especially those of color.
When asked by Rev. Dr. Jordan-Simpson why this happens in New York, Ms. Elijah said that "New York has a liberal fantasy" and that legislators who have failed to understand the complex system of youth criminal justice have let their constituents down. Judge Drinane said "we need to draft a bill that is clear … because by the time these children come into court many of the systems put in place to protect them have already failed them."
Ms. Elijah said that in Connecticut, where laws were recently changed to prevent minors from being charged automatically as adults, "recidivism rates dropped after the age was raised." Dr. March said that there were "strong barriers" to changing these laws in New York, noting that activists "came close" last year in New York. The rollout of the proposed bill was not handled well, she said, and there were "issues of leadership" in both houses. She urged the attendees to be outspoken, saying "we need legislators to hear from many, many people."
Social media has been hugely influential in the campaign to raise the age of criminal responsibility in New York from 16 to 18 years old. Using the hashtag #RaiseTheAge, activists have called for state legislators of both parties to work together to reform the youth criminal justice system. Rev. Dr. Jordan-Simpson spoke about the "huge" response on social media to the story of Kalief Browder, a 22-year-old African-American New Yorker who was arrested at age 16 on charges of allegedly stealing a backpack. He was imprisoned at Rikers Island awaiting trial for three years, where he experienced abuse at the hands of prison guards and long periods of solitary confinement. He committed suicide once released.
Ms. Browder's voice was clear as she said "he may have tied that rope around his neck, but they pulled the strings." #