THE ARTS IN EDUCATION
Cowin Financial Literacy Program at Teachers College Grows Nationally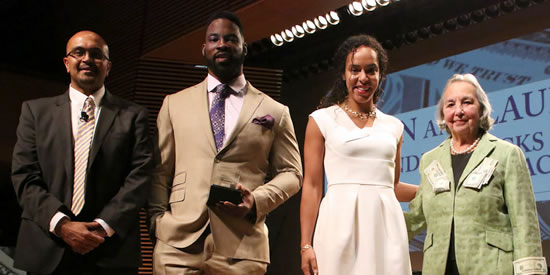 (L-R) Professor Anand Marri, Justin Tuck, Lauran Tuck & Joyce Cowin
NEW YORK – President Susan H. Fuhrman and TC Trustee Joyce B. Cowin of Columbia University, Teachers College recently celebrated the national expansion of the Cowin Financial Literacy Program at the Joyce Berger Cowin Auditorium. Lauran and Justin Tuck, founders of Tuck's R.U.S.H. for Literacy, were the keynote speakers. Beth Kobliner, author of the New York Times bestseller Get a Financial Life, moderated the panel, which consisted of Time and Money magazines contributor Dan Kadlec, retired Fortune Magazine Senior Editor-at-Large Carol Loomis, and Anand Marri, Associate Professor of Social Studies & Education at Columbia University, Teachers College.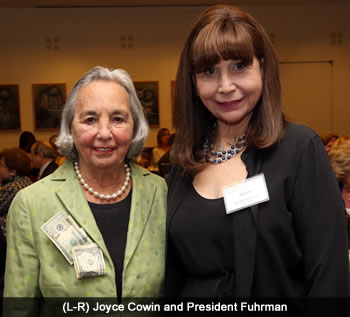 The Cowin Financial Literacy Program at Teachers College is the only financial literacy program in the United States aimed at increasing teachers' tools in order to better empower their students. Joyce B. Cowin, founder, stated that the mission of the Financial Literacy Program is to enable students to become "economic citizens," giving them the ability to tackle financial challenges on their own.
While delivering the keynote address, Justin Tuck drew from his own experience as a professional athlete. "In life, just as in football, you need to be prepared financially for the unexpected," he said, referring to the dangers of career-ending injuries that athletes are subjected to. His wife Lauran said that the couple's passion for financial literacy led to them founding the Tucks' College Savers Program. "Now there are hundreds of kindergarten students who have college savings accounts that we have seeded, and we're so excited to see that program grow," she said.
In 2008, Lauran and Justin Tuck founded Tuck's R.U.S.H. for Literacy, whose stated mission is "to bring the same opportunities that made them successful to low-income youth in New York, New Jersey, and Alabama." The program focuses on literacy by distributing books, administering essay contests, and delivering supporting materials to teachers. The program is currently focusing on summer learning loss and financial literacy, both of which boost a child's likelihood to attend college. Before Tuck's R.U.S.H. for literacy, Justin was a member of the NY Giants, while Lauran, a graduate of Notre Dame and University of Pennsylvania, served on the Board of Directors for New Yorkers for Children, Horizons National, and the 50 Fund; she is also a member of the University of Notre Dame's Performing Arts Advisory Council and the Co-Founder of the University of Pennsylvania's Nonprofit Leadership Alumni Association. #