THE CITY COLLEGE OF NEW YORK NEWS
Dr. Pola Rosen Garners Award From CCNY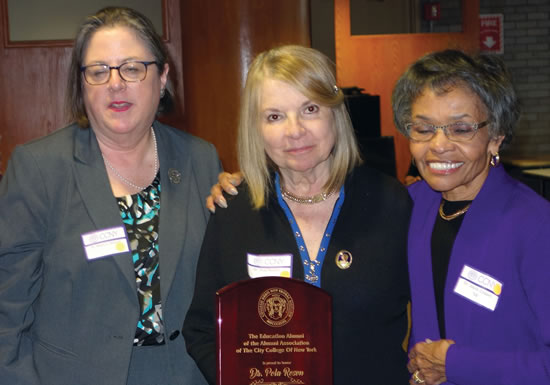 (L-R) Dean Mary Driscoll, CCNY, Dr. Pola Rosen, Dr. Joyce Coppin, President of Alumni Association, CCNY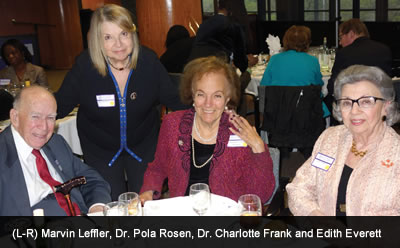 Recently the Alumni Association of The City College of New York hosted the Education Alumni Affiliate's Annual Reception and Awards Ceremony honoring those in the field of education. Dr. Joyce Coppin, President of the Education Affiliate of the Alumni Association, acted as Mistress of Ceremonies. Dean Mary E. Driscoll provided opening remarks.
The Distinguished Partner in Education award was presented to Dr. Pola Rosen, Publisher of Education Update. Dr. Rosen is a graduate of Barnard College and Columbia University, Teachers College, where she completed her doctoral work in special education. Dr. Rosen founded Education Update, which has 100,000 readers and over four million page views, twenty years ago. She has won numerous awards for her work and serves on the boards of Landmark College (Emerita) in Vermont, the Kennedy Child Study Center in New York City, Education Council at Mercy College, Education Advisory Council at the New York Botanical Gardens, Education Committee at Town Hall in New York, and is a member of the Board of Trustees of Beacon College in Florida.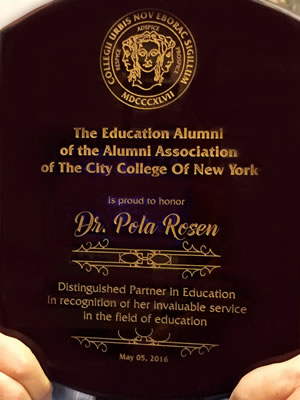 The Distinguished Educator award was presented to Dr. Linda Curtis-Bey, Executive Director – STEM Education at Department of Education. She is a member of the NYS Science Content Advisory Panel and the NYS Math Advisory Panel; serves on the NYS Technology Policy and Practice Council; and serves as an expert advisor for 100Kin10, a national initiative to recruit and train 100,000 STEM teachers by 2021. Before pursuing a career in education, Dr. Curtis-Bey worked at IBM and at Pan Am.
The Outstanding Teacher of the Year award was presented to Dennis Ryan, a teacher at The Renaissance Leadership Academy. He has taught at-risk students, many of whom are three to four years below grade level. Mr. Ryan also served as Literary Coach, where he organized ELA Teacher Team meetings, among other responsibilities.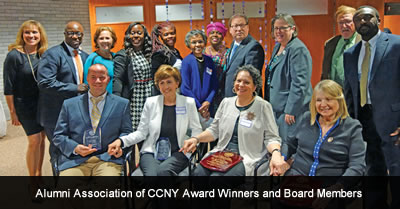 The Outstanding Administrator Award was presented to Martha Madera, Former Superintendent, District 6 – NYC Department of Education. Ms. Madera is a graduate of Queens College, where she received her undergraduate degree in education, and New York University, where she received a Masters in Bilingual Education. Ms. Madera has held various administrative positions: Director of Bilingual Education in District 6, Assistant Principal at P.S. 4, Principal of PS/IS 528, and Principal of P.S. 28. #