WOMEN SHAPING HISTORY 2016


HBO Documentary President Sheila Nevins at Barnard College, Athena Film Festival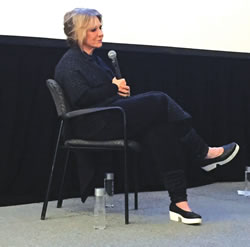 With 59 Emmy Awards, 31 Peabody Award and 21 Academy Awards to her name, HBO President of Documentary Films Sheila Nevis is the undisputed queen of the screen of the documentary. This past February, Nevins visited her former alma mater, Barnard College, to speak at the Athena Film Festival. The Q&A style forum, which was hosted by Athena Film Festival Aristic Director and co-founder Melissa Silverstein, touched on a myriad of topics including Nevins' own life stories, the current state of the documentary film business, and the films themselves.
Silverstein set the tone with a broad, but poignant question: what is an HBO documentary film? Nevins' replied with her own question: "what is a good documentary?" She went on to say that the best films are the ones that motivate the audience to have empathy. "The best documentary films are those that do not leave that person alone because you're left there… caring about them," she said. She also noted that when she reads the newspaper, she always pays special attention to the obituaries. "I'm curious to read what is worth a picture," she said.
Silverstein brought to focus the fact that the landscape of documentary has chaged dramatically in the past years with a shift on more celebrity driven pieces as opposed to ones about "the people". "It's become a numbers game," said Nevins, "but we were the first to tell stories of people who are not famous. I'm interested in ordinary people. I'm not name conscious, I'm people conscious."
Nevins offered insight into how she's gotten where she is today, and said "I wouldn't be here if I didn't demand credit." She explained how she "pushed" her way up. "I never left," she said, "I was a cactus!" She shared her early experiences including the sexism and "putting up with pig language" as the only woman working her department.
Nevins has been regarded as an important feminist figure though she said she never made this a priority- it was something that just "happened." "I don't really notice that I hire females," she said, "I don't see them in the shower," she said to laughs.
She explained that she doesn't go out of her way to hire females- she aims to hire who is best for the job and in many cases, those people have turned out to be women. "Diversity is economically intelligent," she said, "I aim for excellence and it turns out excellence happens to be diverse."
When asked what keeps her interested in doing this after so many years, she said, half jokingly that it was "depression" and "depravity." "I'm not a happy person," she said with irony. "I think the world is sad and that it needs to be told. I'm funny but I'm tragic."
Nevins' documentaries focus heavily on those that are living with disabilities or dealing with difficult circumstances. She shared an early experience with her mother in a café as being the cataylyst for her interest in showing those with disabilties in her films: her mother, who had an amputation at her elbow, was told angrily by a customer to cover her limb because it offended her. Nevins said this moment of concealment caused her great pain and thus inspired her to make it her life's mission to show disabilities instead of hide them. "Nothing is too ugly for me. I don't BS. I don't have time to!" she proclaimed.
After her enlightening discussion, Nevins took questions and shared that HBO is interested in the stories people want to tell. She urged budding film makers to not be shy and pitch to HBO. #