WOMEN SHAPING HISTORY 2016


Mira Jedwabnik Van Doren
Artist & Documentary Producer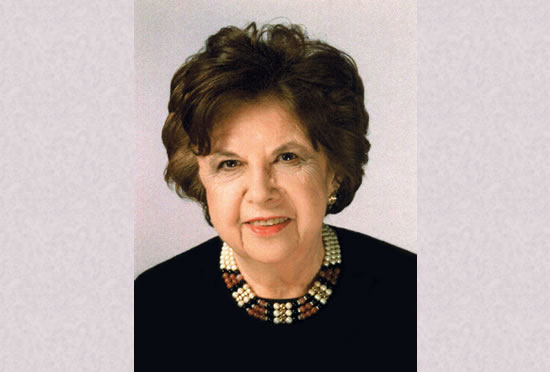 Career Path: I have had two careers, both creative, both different and both very challenging. I am an artist and a documentary filmmaker. My career as an artist had its beginning as I watched my mother painting in her studio. I knew then that I wanted also to be an artist. My parents encouraged my interest in painting. That early encouragement has stayed with me forever.
One of my interests as an artist was to combine art in every day life. Vitreous enamel on metal was an excellent material for this purpose. I saw endless possibilities where art could be incorporated into everyday life. While I was studying at Cranbrook Academy of Art we were encouraged to experiment in various mediums. Besides painting in oils and watercolor, I decided to experiment in enamels on metal. It was also at that time that I became interested in the work of Le Corbusier, particularly the entrance doors of the chapel of Notre Dame du Haut. The artwork was enamel on metal. I was also inspired by the work of the architect Walter Gropius and the Bauhaus movement which strived to bring creative efforts together to renew the disciplines of art, sculpture, painting and handicrafts as inseparable components of architecture.
My career as a documentary filmmaker came much later in life. I was born in Vilna, Poland (now Vilnius, Lithuania) before World War II. In August of 1939 my parents and I went on a six-week trip to the United States to visit the World's Fair in New York. While we were on the high seas the Germans invaded Poland. It was the beginning of World War II. We were one of the few lucky families that survived the destruction of the Vilna Jewish community. My good fortune has always weighed heavily on me. As a survivor I believed that it was my obligation to devote myself to document the community for present and future generations.
Challenges: As an enamel artist my greatest challenge was in figuring out how to fabricate my commissions. The kiln at my studio was much too small. I had to collaborate with plants that produced commercial porcelain enamel. The use of their facilities enabled me to produce my enamel art pieces. Through the years I used the facilities of a number of porcelain enamel plants to do my artwork, murals, elevator doors and tables.
Later in my career my vision was to produce a documentary film. It was a monumental decision. It required a totally different energy than my artwork. My education as an artist gave me confidence and courage to follow my visions and imagination. As an artist I was a professional. As a film producer I was totally innocent. My goal was to produce a historical film depicting the remarkable Jewish community of Vilna before its destruction in WWII. I couldn't do this alone. I had to work with producers, scholars, photo researchers and an editor. I was fortunate to find a film editor who was very experienced and spoke Polish, English and Yiddish.
Accomplishments: When I returned from Cranbrook Academy of Art to my studio in New York, I continued to experiment with vitreous enamel. I produced a line of jewelry, which was sold by department stores as well as prominent designers. I was then most fortunate to be commissioned to create enamel artworks for the newly built SS United States ocean liner, which included tabletops and wall décor. For a young artist of just 21 it was an auspicious start and one for which I am continually grateful.
I enjoyed a celebrated career as an artist, pioneering the art of vitreous enamel on steel. My clients were mostly prominent architects. I created murals, doors, elevator panels, furniture and decorations for ships, banks, hotels, building lobbies, synagogues and churches. Some of my most notable commissions included the elevator doors for Liberty Mutual Life Insurance building, elevator doors and murals at the Regency Hyatt hotel in Chicago, commemorative doors at Temple Emanuel in Chicago, murals for the Sheraton hotels, Loews hotels, the Fairchild Engineering building at MIT and numerous other projects. I completed hundreds of art panels and elevator doors. I was featured in Elevator World for my work.
In the years that followed, my interest turned towards the historical past of Vilna, the "Jerusalem of Lithuania"— the city from which my family narrowly escaped World War II decades prior.
I founded a non-profit organization the Vilna Project, Inc. with the mission of documenting, preserving and disseminating information about the pre-war Jewish community of Vilna. I conducted extensive interviews, research and collected photographs, and in 2006 I produced a 58-minute documentary The World Was Ours, depicting the Jewish community of Vilna before its destruction in World War II.
The World Was Ours has been shown internationally at film festivals in the U.S, Canada, Europe and Australia and was a major success. It was broadcast nationally for three years on American Public Television in 39 states and on WNET Channel 13 in New York. In 2006 I was awarded the YIVO Institute's first Vilna Award for Distinguished Achievement. I was also the recipient of the Outstanding Achievement Award at Kent Connecticut's Film Festival and was honored by the Folksbiene Yiddish Theatre for my work on the film. The World Was Ours, continues to be screened at universities, theaters, synagogues and special events around the world. We recently published a comprehensive study guide for the film, intended for use by students, historians and individuals who want to further their knowledge.
Mentors: In my youth I was surrounded by art. My mother was an artist. I greatly admired her work. She encouraged me to study art. As long as I remember I always painted. I first studied privately with a French Painter Leo Michelson. I attended the High School of Music and Art in New York. I majored in Art History and Painting at Columbia University. I won scholarships to the Art Students League where I studied for a number of years. But the most influential for my career was the Cranbrook Academy of Art in Bloomfield Hills, Michigan.
Anne Urquhart and Dorothy Marckwald, lead interior designers of the SS United States, had faith in me at the age of 21 and commissioned numerous enamel artworks for the newly built ship. This was the beginning of my career in art for architecture.
TURNING POINT: One day in the early 1990's, after a life with artistic successes, I woke up amid the security of my family and thought, "Lady you don't get it for nothing. You didn't get on that ship; you didn't get all your good luck without an obligation." That obligation was to document, for the world the community I had known in my youth. I was undeterred by my lack of knowledge of filmmaking, however.
I am a project person. I get ideas and I really believe in them and think I should do them. Deciding to do a film about Vilna was insane because I had never made a film. But I was never discouraged. I thought I would just start and go step by step. I might have given up without the support of my family. I became totally involved in the production of the film and saw it through to completion.
GOALS: Plans are underway for a DVD collection entitled The Last Voices of Vilna that will consist of the many valuable and inspiring full-length interviews of Vilna survivors and scholars that could not be included in my documentary.
We are also working towards digitizing many hours of footage and interviews. We wish to make our archive available for use by individuals, universities and related organizations.
An online course for those who wish to delve deeper is also in development. We are currently seeking funds to complete these projects. I am also working on creating a book and an exhibition of my enamels and paintings.#