WOMEN SHAPING HISTORY 2016
Joyce Cowin, Founder of Heritage School, Inspires Excellence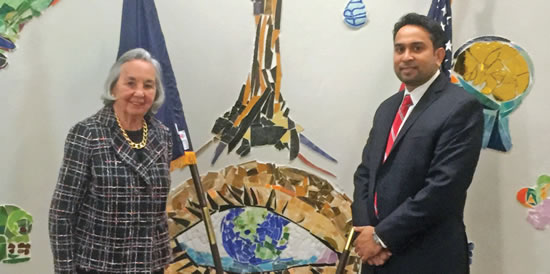 Recently, Dyanand Sugrim, Principal of The Heritage School in East Harlem spoke with Education Update and Heritage School founding funder Joyce B. Cowin. The Heritage School, which was founded in 1996 with support from Teacher's College, Columbia University, seeks to provide a dynamic education to students in grades 9-12 with a focus on the exploration of history and culture through the arts.
Since Principal Sugrim took the helm in 2011, The Heritage School has enjoyed a steady upward trajectory of progress perhaps best demonstrated by rising graduation rates; the current graduation rate is 80%, up from 70% the previous year. Applications to attend the school are also climbing; when Sugrim first started working at Heritage "there were 100 students applying for 100 seats," he says, adding, "now we're up to 700 applicants for 100 seats! Applicants are flooding our doors."
Over the past few years, Cowin's generous funding has been allocated to three major areas linked to college preparedness, says Sugrim. The first program is called College Summit. College Summit is an organization that comes in with an entire curriculum that aims to prepare students for the college application process starting in 9th grade. Secondly, in an effort to expose students to areas of New York outside of the East Harlem community, the Heritage School has coordinated services with Go Campus. Through Go Campus, at least 50 students are taken on a field trip to tour 5-6 SUNY colleges in New York State. To jumpstart the college application process, 9th grade students are given the opportunity to go on this trip as well as older students. Thirdly, the Princeton Review is purchased for students preparing to take their SAT's- an especially helpful endeavor due to the large population of Heritage School students living at or below the poverty line.
Further attention is paid to college preparedness through the use of 10 College Summit Leaders. In this intriguing summer program, 10 rising seniors went to Rutgers University to be trained in the College Now Student Ambassador Program. These students returned and then served as mentors to both their class and the grade below for those who are thinking about and in the process of applying to college.
The Heritage School also works with teachers to improve the quality of education. Each week, committees of 5 teachers each with one teacher leader meet to develop specific programs and activities. One committee, for example, focuses on developing a skills map which tracks the skills students need per grade and how they evolve as students move through high school. Another committee, called the College Summit Committee, works with the aforementioned College Summit curriculum, and another is the Student Life Committee, which works to organize trips for the school and all school events such as holiday festivals.
When asked where he would like to see the school in 5 years, Sugrim said he'd like to see the graduation rate improve to 90%. In addition, he'd like to see students go to more 4-year colleges and/or colleges outside of New York City or to more private schools. "I want them to be prepared for those colleges because of the challenging courses they're taking here," he said.
While the school does focus on the arts and has a successful partnership with Urban Arts that results in after school art, photography, dance, and film classes, he wants students to "have a richer experience with instruments, music and the arts" and wants "every child to have a chance to be involved in those programs."
In general, college preparedness is always at the forefront of Sugrim's mind. "The majority of students want a college education and wants to go to school," he said, "the culture is changing. We have so many more students who want to apply and go to college. It's taken over the culture. It's not something that's out of reach."
And for those that attend The Heritage School, those dreams are indeed in reach. #