WOMEN SHAPING HISTORY 2016
Dr. Mary L. Farrell
Director, Regional Center For College Students With Learning Disabilities, Fairleigh Dickinson University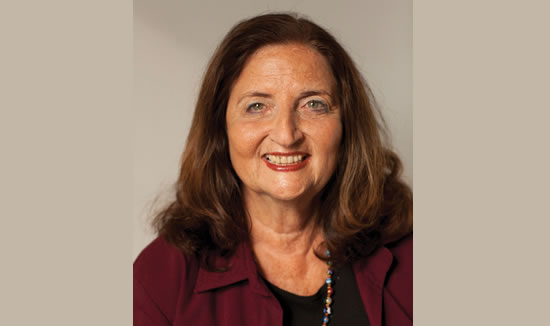 Career Path: I began my career at City University's Graduate Center, working as a research assistant in one of the first graduate programs in compute applications in education. We had received a grant to teach beginning reading. Despite the abundance of talent available in educational theory, technology, and curriculum, not one of us in the department actually knew specifically what to do with a beginning reader. I decided that if I was ever going to write effective computer programs to teach reading, I had to first learn about traditional reading instruction methods.
So, I went to Teachers College to explore available courses of study in reading. In the process, I learned about the doctoral program in learning disabilities, was inspired by the faculty who were passionate about this discipline– Jo Shepherd and Jean Flesichner in particular - and joined the program. The faculty demonstrated throughout our coursework that with the appropriate diagnostic and remediation skills, we could truly make a difference in the lives of students struggling to learn.. Who could resist the opportunity to help restore hope for a successful life experience to students and their families?
Challenges: Perhaps the greatest challenge I have faced is finding the right balance between personal and professional responsibilities. I am still working on striking that balance! . Another obstacle has been that I find almost all topics related to learning disabilities to be of interest. It has taken years to develop the discipline to focus on what have now become my two special interests within learning disabilities, i.e., dyslexia and supporting undergraduates with learning disabilities. Many years at Fairleigh Dickinson University (FDU) spent building the Orton Gillingham (structured literacy) teacher training program and the Center for Dyslexia Studies put me in a position to help respond to the country's rising demand for training in dyslexia that is currently sweeping the country. In developing FDU's Regional Center for Learning Disabilities, a support program for college students with learning disabilities, I faced many challenges: myriad, new administrative tasks dealing with the loss of grant funding, occasional inability to fill staff vacancies, turnover in senior administrators. But, surrounding myself with a team of staff members equally enthusiastic and persevering has kept us moving forward.
Accomplishments: Professionally, I am very proud of having developed through the FDU's Center for Dyslexia Studies? a corps of instructors who train teachers in the Orton Gillingham (structured literacy) approach to reading instruction for children with dyslexia. These teachers comprise a network of professionals who make it possible for FDU to train teachers throughout New Jersey. I am proud of the teachers in this network because of their dedication to children with dyslexia and their advanced instructional skills but also because of their consistent support of each other and the program.
I am also very proud of what we have accomplished at FDU's Regional Center. First and foremost, I am most proud of our students' success. More than half of our students graduate with a GPA of B or better; they study successfully in all disciplines at the university and play a large role in campus life – sports, theatre, newspaper, student government.. I am proud that our Center strives consistently to do the best for our students. As a group, we welcome and incorporate the latest products in assistive technology, continuously provide professional development to keep our pedagogical strategies at their most effective, maintain a clinical perspective on students that permits us to differentiate our support, and always attend to the social and emotional well-being as well as the academic success of the students we support.
Mentors: My family instilled a deep interest in learning and, because we are a very large family, provided plenty of practice in how to work within a community of like-minded individuals to achieve common goals. In the course of my studies, going back as far as high school, I have been fortunate to have had a a variety of mentors. Some mentors instilled me with confidence, some taught me better self- understanding, others shared their passion and skills for working with students with learning disabilities, and other mentors modelled successful navigation of the politics of higher education. Certainly the Teachers College professors had the most profound impact on my career, inspiring a career in which I am more than totally engaged. I feel very fortunate that I really love my work!
Women have played a very large role in my life--beginning with my mother, who always insisted on academic excellence, followed by teachers who knew their subjects well and shared their expert knowledge. Throughout my career, I have been very fortunate to have limitless support of family members and close friends, helping in my efforts to balance career and family responsibilities. I have also benefitted from membership in a variety of informal networks of women working together whether to bring the gift of reading to students with dyslexia, fostering academic success to undergrads with learning disabilities, building new academic programs, or collaborating within professional associations. I would be remiss if I didn't mention that I have also been strongly encouraged by the men in my life -- husband, grandfather, father, brothers, and colleagues -- to pursue educational and career goals.
TURNING POINT: Discovering my passion for learning disabilities and connecting with the program at Teachers College was the first turning point in my professional life. Another significant event was being hired by FDU, right out of my Ph.D. program, and becoming established in a a flexible environment in which I could gradually build my career.
GOALS: That's an easy question to answer: I am primarily planning to keep doing what I am doing and finding time for a few, selective new projects. Going full circle, one project in particular that I would like to pursue is demonstrating how to incorporate computer-assisted instruction to augment traditional reading instruction. #