WOMEN SHAPING HISTORY 2016


Chinese Ballet: A Modern Tradition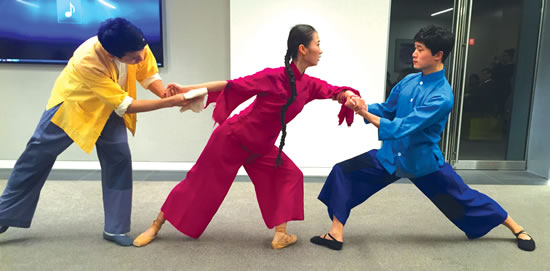 In front of a crowd of New Yorkers, embassy attachés and former ballerinas, the National Ballet of China introduced the city that never sleeps to an interesting and innovative take on the art of ballet. Followed by an introduction by the head of the China Institute, James B. Heimowitz, general director and artistic director of the National Ballet of China, Feng Ying, gave a lecture on the fundamentals of Chinese ballet. Speaking in her native tongue, she gave a concise overview of the relatively new art of Chinese ballet against the backdrop of the incomparable age-old traditions of Chinese expression.
Ying started her discussion with an explanation of the development of ballet in China. The first ballet school of the country was established in 1954 and quickly the discipline was transformed and adapted to reflect Chinese values and traditions. One of the first adaptations of classical western ballet was of Swan Lake, which was staged in only four years. Ying emphasized how the people of China wanted to see this new art form from a Chinese perspective, which led directors, choreographers and dancers to think about Chinese traditions, folk art, music and even the opera could be incorporated in their productions.
In one of their most successful ballets, The Red Detachment of Women, the National Ballet adapted this popular film from 1964 into a production that truly emphasized the Chinese spirit. Taking movements from everyday life– including former military training experience– the dancers, choreographers and composers collaborated to collectively create a performance that emphasized a sense of pioneering spirit and innovation. At the time of the production, the costumes that featured short pants and vibrant colors were an avant garde reworking of a respected tradition. Coupled with expert lighting and set design, the audience was truly captivated by this contemporary take on ballet.
Now, The Red Detachment of Women has been performed over 4000 times all over the world. Ying expressed great pride and pleasure in the National Ballet of China and noted that she would love to continue to educate the world on the traditions of Chinese ballet. #