Silicon City at the New-York Historical Society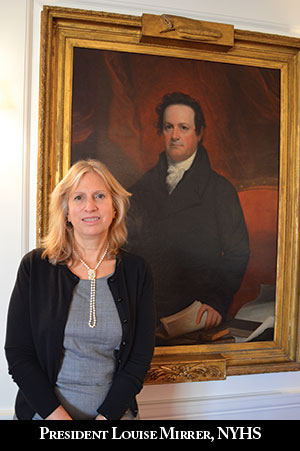 The New-York Historical Society is connecting the next generation of digital innovators with the pioneering achievements of their predecessors. Through the generous support of Google.org, New York City school students can visit the museum and experience a computer coding workshop and a guided tour of the Silicon City: Computer History Made in New York exhibition for free! The exhibition opened on November 13, 2015 and continues until April 17, 2016. The workshops take place in coding labs within the landmark New-York Historical Society building.
The course opens with an introductory video to "Scratch", a programming language developed at M.I.T. A Google employee explains the importance of coding: "Programming is a tool that you can use to bring your dreams and imagination to life."
The students begin by logging in with their digital passports, which allow them to access their saved files from any computer connected to the Internet once they are back at school or at home. The lesson takes the form of a virtual boat floating on a digital sea. The students are able to decorate their boats with sprites, ClipArt-like images that can be dragged and dropped onto the boat. From there, they program the wave physics and watch as their boats react. One student, giggling, designs a replica of the Titanic and pits it against a whirlpool.
"This variable controls the waves," a boy in a blue sweater explains to his teacher, who bends down to peer at the screen. "I can randomize it so the heights are never the same."
After half an hour of this exercise, Rachel Gorman, the Museum Educator in charge of the course, asks the class to save their work. For the next half an hour, she discusses their projects with them. The conversation turns to creativity and computing. Ms. Gorman asks the students what "innovation" means.
"Discovery, advancements," one said.
"Making inventions better," another student said.
"Yes. Innovation is about using creativity to make those inventions better and our lives easier," Ms. Gorman said, before ushering the class out of the coding lab and into the exhibition.
First the students encounter a wooden computing machine from 1890 that was designed to assist the census counters after a particularly large population boom. They are shocked to learn that it can only add sums. Ms. Gorman then hands out a worksheet, which the students fill out as they roam the interactive exhibition.
Organized by the Historical Society's Chief Curator Stephen Edidin and Research Associate Cristian Panaite, Silicon City shows a timeline of past achievements in the fields of computer science in the New York region. Spanning from the late-1800s to the 1980s, the exhibition features over 300 artifacts.
The students are able to see early computers, typewriters, telephones, transistors, and even a prototype satellite. "It looks like the Death Star," one student said.
Ms. Gorman, who is earning a Master's degree in TESOL at Hunter College, said the most rewarding part of the teaching experience is when students make connections between what they learn in the museum and what they learn in their social studies classes. "It's really exciting for them to see an artifact and say, 'Oh, that's how it's used!' It's great because it's not just in a textbook anymore – they can see the real life object." New York City schools interested in bringing classes to the New-York Historical Society for a free coding workshop and tour of "Silicon City" can contact schoolprograms@nyhistory.org or call (212) 485-9293.#