W.C. Fields Centennial Celebration at the New Amsterdam Theater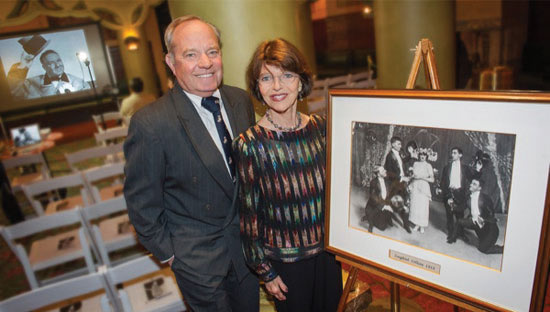 Ron Fields & Harriet Fields
On June 21, 1915, W.C. Fields made history with his debut in the Ziegfeld Follies at the New Amsterdam Theater. Almost exactly one hundred years to the day of his debut, W.C. Fields' granddaughter and Vice-President of W.C. Fields Productions, Inc. Dr. Harriet Fields, joined by grandson and Emmy Award winner and Fields Scholar Ronald J. Fields, American humorist Dick Cavett, VP of Operations of Disney Theatrical Group Dana Amendola and author Arthur Wertheim, presented an intimate and joyous celebration of the life and legacy of one of America's most prolific comic geniuses.
The interactive program, moderated by Harriet, explored the importance and lasting effect of the many routines made famous by W.C. Fields during his time with the Ziegfeld Follies.
"My grandfather is my spiritual inspiration, whenever I am in my beloved New York, my spiritual home, I always go to the lobby of the New Amsterdam Theatre and stand in front of the formal photo of W.C. Fields and meditate. Having given up organized religion, I come here for spiritual nourishment. I say thank you grandfather, thank you for being you, thank you for freeing me," said Harriet.
Many of the panelists provided anecdotes and their own personal experiences with Fields' work. "You cry but you aren't sad. Fields' greatness so overwhelmed me. His greatness is unsurpassed and I'm glad that he's still around- thank God for film," said Cavett, who later recalled a time he and fellow comedian Woody Allen sat in front of Fields home and fantasized about him inviting them in.
After some biographical information was provided by Ronald, the first clip of the evening was shown. Entitled "The Old Fashioned Way," it featured one of Fields famous juggling routines. Another selection shown was the famous "pool scene" from "Six of A Kind", which exemplifies the physical comedy Fields was famous for. As explained throughout the program, many of the routines Fields made famous in film began as stage bits. One of those is featured in the 1930 film "The Golf Specialist." According to Ronald, instead of shooting a remade version of the famous golf scene for film, the director chose to film Fields on stage doing the routine. Others that were shown included: "The Dentist", "The Pharmacist," and "It's a Gift," each featuring unique routines that began on the stage before its translation to film.
"There is so much to learn from one individual, one artist who devoted his life to share his art with the world and make people happy," said Harriet, "in his own words W.C. Fields said, 'If I can make them laugh and through that laughter make this old world seem a just a little brighter, then I am satisfied.' Our goal, my brothers and I, is to ensure that younger generations and generations to come know the joy and comfort of our grandfather's art through humor."
2015 is truly the year of Fields. Along with the centennial celebration of the Ziegfeld Follies, it is the 100th anniversary of his first film, "Pool Sharks." To celebrate this important year, Universal Studios will be releasing specially digitalized DVD's of essential Comedy Classics in October and the Magic Castle in Hollywood, (which currently holds the original pool table on loan from the W.C. Fields Family), will be celebrating the release of "Pool Sharks" on September 19. On September 4, cable channel TCM will be hosting a special program "W.C. Fields: 100 Years in Film", co-hosted by Ben Mankiewicz and Dr. Harriet Fields. #
More information about W.C. Fields and related events can be found online at the Official W.C. Fields website, www.wcfields.com.