Young Women's Leadership Network Celebrates Students, Leaders at Annual (Em)Power Breakfast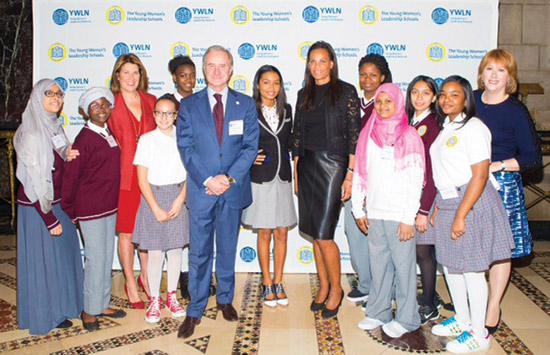 Girl power reigned supreme at this years' Young Women's Leadership Network's (YWLN) (Em) Power Breakfast held at Cipriani recently. The annual event celebrates a stellar line-up of distinguished individuals that are making a difference and acting as role models for young women.
This year's honorees included actress Yara Shahidi, known for her portrayal of "Zoey" on ABC's "Black-ish; Fabrizio Freda, President and CEO of The Esteé Lauder Companies, Kimberley Hatchett, Executive Director of Morgan Stanley and among Barron's Top 100 Financial Advisors; and Sherrie Westin, Executive Vice President of Global Impact and Philanthropy at Sesame Workshop. "We are thrilled to celebrate such distinguished honorees and applaud their commitment to educational access and young women's leadership development," said Ann Tisch, founder, YWLN.
Each recipient had words of wisdom to impart on the audience of over 700. Finance guru Kimberely Hatchett, who has placed on a myriad of distinguished VIP lists over her 15-year career with Morgan Stanley was the first up. "I'm here to tell you girls that it's okay to be fearless," said Ms. Hatchett to applause. Fabrizio Freda, who was honored as this years The Man We Love, spoke on the importance of self-confidence and how essential it is to keep YWLN girls supported so they can continue to grow in confidence. Black-ish star Yara Shahidi spoke to her peers about the importance of community. "The key to growth is community, like the community fostered by Ann Tisch." Finally, Sherrie Westin received the last honor. Ms. Westin noted that she brought her 13-year-old son to the day's event. "I'm so happy he's here because I think it is as important for young men to understand the value of young women's leadership as it is for young girls," she said to thunderous applause. She also praised Ann Tisch for her phenomenal work. "The real reason I'm here today is because of Ann Tisch," she said, "I think everyone at this event should be honoring Ann… if it were not for her none of us would be here today cheering on these incredible girls who are going to change the world."
Welcome Education Leader & New Executive Director!
Young Women's Leadership Network (YWLN) is very pleased to share that Jemina Bernard, who led major initiatives for the New York City Department of Education, Teach For America and most recently was CEO of ROADS Charter High Schools, will join us as Executive Director on November 2, 2015. Bernard, is a graduate of Yale University and Columbia Business School.
Following the presentations and acceptance speeches, a beautiful short film was shown that demonstrated the impact YWLN has had on so many lives. "YWLN is always there for you," said one student. "This is a real shot to change the economic balance of their lives," said one teacher during the film.
The statistics for YWLN are overwhelmingly positive. More than 95 percent of students graduate and nearly 100 percent are accepted to college each year with the vast majority attending 4-year colleges. Presently, over 2,200 girls in New York City are educated at YWLN high schools in East Harlem, Queens, Astoria, the Bronx and Brooklyn. National affiliates include schools in Chicago, Baltimore, St. Louis, Rochester and various locations across Texas including Austin, Dallas, Lubbock, San Antonio, Fort Worth, Grand Prairie and Houston. "I am so proud of these girls and what they accomplish year in and year out," said YWLN Founder Ann Tisch. "It is just overwhelming."#