Education Brought to the Forefront at New York Times Conference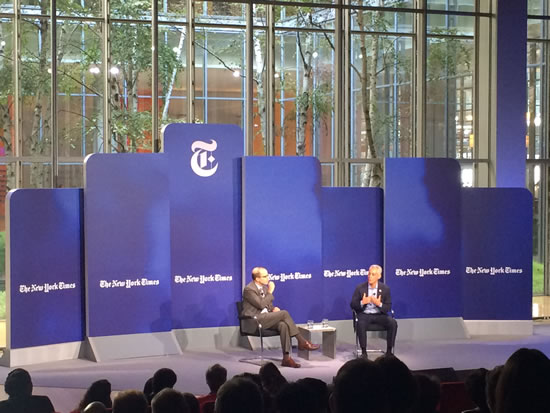 (L-R) David Leonhardt and Rahm Emanuel
The fifth annual New York Times Schools for Tomorrow conference, held at the Times Center in Midtown Manhattan, brought together over 400 educators, government officials, technology innovators, investors and other distinguished guests to explore some of today's most profound questions regarding higher education. In debates and discussions, hot-button topics such as sexual assault on campus, the impact of big-time sports, the effect of race and class on the classroom and the stress associated with the college application process were addressed at length by leaders in education and journalism.
The keynote conversation included David Leonhardt, editor of The Upshot of the New York Times and Rahm Emanuel, mayor of the City of Chicago. The engaging conversation covered several key points including the importance of community college and Emanuel's opinions on school reform; a term Emanuel does not particularly like. "School reform is an elite discussion," he declared, "I believe in quality. I owe parents quality." He shared three elements that create a quality school: the principal, the teacher, and an involved parent. "The first door of education is the one at home. Home is where they learn the importance of education," he said.
Emanuel also spoke about Chicago's successful dual enrollment program that allows high school students to earn college credits. The program has grown from 300 kids to 3800. If a student maintains a B average, they will automatically be enrolled in the program and be eligible to receive $2500 off of their tuition in a Chicago community college. This plan, says Emanuel, creates continuum and acts as a ticket for the next two years.
David Leonhardt remained on stage for another discussion centered on state schools. The panelists included Nicholas B. Dirks, chancellor, University of California, Berkley, Michael A. McRobbie, president, Indiana University and Nancy Zimpher, chancellor, State University of New York. Much of the discussion focused on funding, which for many schools has been significantly cut, as well as changing student bodies and the effect of technology.
Following the poignant discussion on state universities, president and C.E.O. of the Center for American Progress, Neera Tanden, took the stage to give a brief overview of how education is playing into the 2016 presidential race. An audience favorite was a visual presentation of the education platforms candidates such as Hilary Clinton ("debt free tuition"), Bernie Sanders ("free tuition"), Chris Christie ("streamline bureaucracy"), and Jeb Bush ("students must finish faster"), among others. The following "Visions for Change" presentation, as these brief talks were called, focused on the stress many high school students face when applying to college. New York Times Op-Ed columnist Frank Burni spoke of the startling suicide rates and instances of binge drinking due to application stress. "The admissions race reinforces the idea that life is a hierarchy," he said, "and that the package matters more than the substance."
Following a networking break, the conversations turned heavy with discussions regarding sexual assault and affirmative action. The first session, "Sexual Assault: How Colleges Can Fight Back," featured panelists Alexandra Brodsky who is the founder of Know Your Title IX and editor of Feministing.com as well as a student at Yale Law School along with Sharyn J. Potter, Ph.D., M.P.H., co-director of Prevention Innovations Research Center and associate professor at University of New Hampshire and David Rudovsky, founding partner of Kairys, Rudovsky, Messing & Feinberg, LLP and senior fellow of University of Pennsylvania Law School. New York Times Magazine staff writer Emily Bazelon moderated the discussion. While all the panelists agreed it's "great sexual assault issues have surfaced", they recognized that there was still a long way to go. Specifically, Sharyn Potter said the fact that so many sexual assaults go unreported makes it very difficult to progress.
The discussion on affirmative action and the influence of race and class on admissions decisions was particularly fascinating. Professor and author John McWhorter of Columbia University with Vice President for Enrollment and Student Success Angel B. Perez Ph.D of Trinity College, moderated by New York Times reporter Motoko Rich, led a spirited discussion about race and socioeconomic diversity and the acceptance of diverse students for the sake of being diverse. "Diversity is important when all the qualifications are the same," said McWhorter regarding the admission process. The panelists also spoke on the importance of diversity in schools in order to help students learn about new cultures and to become more accepting and open minded.
This discussion was followed by a networking lunch, where Norman Atkins, co-founder and president of Relay Graduate School of Education, Patrick Dobard, superintendent of the Louisiana Recovery School District, and Kate Walsh, president of the National Council on Teacher Quality debated what needed to be done to properly prepare teachers for the classroom. The consensus was that those studying to become teachers needed hands-on experience in order to fully understand whether the job was right for them. Oftentimes, teachers are ill equipped and unprepared for a job that they only learn in theory.
After lunch, Dan Huttenlocher, dean and vice provost of Cornell Tech and Ned Staebler, vice president for economic development at Wayne State University and president and C.E.O. of TechTown discussed how higher education prepares students for startups in a session entitled: "Incubators: The New Face of Universities." Moderated by Times reporter David Segal, this conversation focused on universities and technology programs. For many who are disinterested in their current careers, studying skills such as coding can help transition them into more lucrative and fulfilling options. It was mentioned that technology based start up companies are very geographically distinct, with New York City being one of the biggest cities for small businesses to get their start.
This was followed by a session called "The Big Problem of Big-Time Sports." In this discussion, the focus was on how college sports are big business for higher education. This emphasis on the athletic component of higher education creates an issue, as sports are often overly dominant, as opposed to the value of education. Donna A. Lopiano, president of Sports Management Resources, argued on the side of reform as she believes that education for athletes is equally as important as their respective involvement in sports. Andy Schwarz, partner of OSKR, argued on behalf of market, stating that sports are an integral part of college business and that they shape the culture of the school in ways that are necessary. Moderator Joe Nocera of the Times remained neutral as he posed interesting questions towards both parties. In one particularly lively exchange, Lopiano argued that college athletes are valued above honor students, which seems backwards in an institution for higher education. Schwarz rebutted with the idea that perhaps honor students "are not worth it" as they don't bring in as much revenue for schools as sports do. This spoke volumes about what universities valued, especially considering that the athletes who make the school millions are not paid like NBA players.
In a change of pace following the discussion on sports, Kevin Carey, director of the education policy program at the New America Foundation spoke about how little traditional higher education mattered as more and more adults are studying at alternative schools. These schools have short programs that certify people in specific skill sets, which helps individuals who may not have otherwise received a degree from an undergraduate university to advance in their workplace.
The rest of the program featured sessions titled "The New New Education Thing," "Mental Health: A Critical Metric on Campus," and a discussion by David Coleman, president and CEO of The College Board on how schools can provide students with more opportunities than every before. The conference ended with closing remarks and summaries by NY Times staff Emily Bazelon, Charles Duhigg and David Leonhardt with a feeling of hope for the future of education. #