MOVIE REVIEW
Brooklyn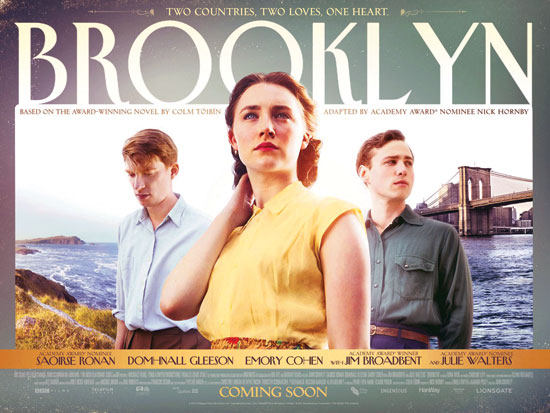 A young woman torn between life of few possibilities in her native Ireland or uncertainties of life in New York as in Calm Toibin's popular novel, Brooklyn now is a lovely movie, directed by John Crowley and script writer Nick Hornby.
Superbly acted, this romantic film, is set in the 1950's, when New York might seem a foreign world to a young Irish woman like Eilis (Saorise Ronan). Although it is a love story, there's plenty here to make it a tale about the many immigrants who come here to full fill dreams and add their skills and interests to our marvelous cultural hodgepodge.
Sailing steerage and scared silly, Eilis takes a night class in accounting, and eases in guided by priest, who helped bring her over. It's at a dance that she meets Tony, (Emory Cohen), a plumber, there because he likes Irish girls. This being the 50's, their courtship is quite reserved: they see "The Quiet Man," take walks, talk, take weekend dates, with scant physical contact. One hilarious scene involves Eilis being taught how with proper twisting to fork wrap pasta to impress Tony's family, dominated by fresh kid who tells how the family hates the Irish.
She works in an upscale department store and lives at a boarding house
taking advice from the women living there.
Then, bad news, Eilis' sister has died. Eilis and Tony share one night of passion and run to city hall and get married. In Ireland, welcomed by all, she learns her best friend is getting married, and her old boyfriend still adores her. They walk on a deserted beach, which is a contrast with Coney Island.
Matured now, though she must leave her mother alone in Ireland, she returns to New York. Every role in this film is superbly acted, even the cameos. The costumes are spot-on as is the cinematography. Shot briefly in New York and mainly in Ireland. This a movie that will cross boundaries when it comes to film-goers. #