Autism Highlighted in Film at AMNH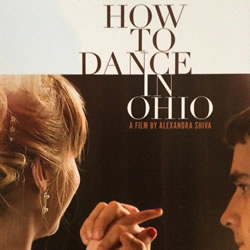 Poignant, eye-opening, and triumphant, "How To Dance In Ohio" uses a spring formal as the vehicle to explore the lives of teenagers with autism in Columbus, Ohio. Film maker Alexandra Shiva, who has two other films under her belt ("Bombay Eunuch" and "Stagedoor"), paints an immersive and detailed picture of what it's like to be a person on the spectrum while engaging in the typical coming of age rituals of American teenage life. The film celebrated its New York premiere at the Margaret Mead Film Festival at the American Museum of Natural History.
Embedded in the social-skills therapy programs of clinical psychologist Dr. Emilio Amigo, Shiva is granted astounding access to the participants and specifically, three young women and their families. Marideth, 16, Caroline, 19, and Jessica, 22, are each relatively high functioning with distinctively different personalities and characteristics; Marideth is a methodical researcher with deep knowledge of the endocrine system to marsupials, Caroline speaks Japanese and Jessica is an avid lover of anime and cartoons. The young women, and the rest of Dr. Amigo's social-skills groups are preparing for a Spring Formal, which will be, in the words of Dr. Amigo, "a recipe for disaster." Amigo and his team cover the whole gamut from how to ask a date to how to dance the "wobble".
Where "How To Dance in Ohio" excels most is in its nuance. While the film certainly has the "feel good ending" that seems to permeate all types of special-needs related media, it offers a peak behind the curtain of being and raising a teenager on the spectrum. Most importantly, Shiva let's the participants speak for themselves- there are no talking heads or analysis; this is their film.
The film is compelling enough to leave the viewer with a head of questions. What happens when they are out in the workforce? A scene with Jessica and her boss puts into context the worries of her parents and demonstrates that these are actual, real concerns. Marideth's unhappiness before the dance raises a more philosophical question: is making them take part in a formal dance for us or is it for them?
With 3.5 million Americans living with an autism spectrum disorder, "How To Dance In Ohio" should be required viewing. If more filmmakers and members of media covering autism had the integrity and clarity of Alexandra Shiva, this very prevalent disorder would be closer to the understanding and acceptance it deserves.#
"How To Dance in Ohio" is currently showing on HBO.