INTERNATIONAL STUDIES


SUNY Women in International Relations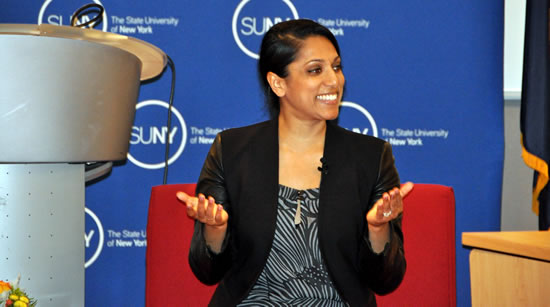 Commissioner Penny Abeywardena
Recently, SUNY and the Women's Foreign Policy Group held an event titled "Elevating the Voices of Women: NYC Building Global Partnerships" at the beautiful SUNY Global Center. This remarkable event brought together dynamic women in foreign policy to discuss the future of global engagement in New York City. Organized by the Jewish Foundation for Education of Women (JFEW) SUNY International Relations and Global Affairs program, this event introduced young female scholars interested in international affairs with established women from the field from prestigious institutions like the UN and the Women's Foreign Policy group.
The keynote speaker, Commissioner Penny Abeywardena of the NYC Mayor's Office for International Affairs, discussed the De Blasio administration's efforts to improve international relations. Graduate of the University of Southern California and Columbia University's School of International and Public Affairs, Ms. Abeywardena was the previous Director of Girls and Women Integration at the Clinton Global Initiative. As Commisioner of NYC's Office for International Affairs, Ms. Abeywardena serves as the primary liason between the City of New York and the diplomatic community, the UN, the Department of State, and foreign governments.
In her discussion, moderated by JFEW SUNY Scholar Anika Michel, Ms. Abeywardena spoke about her position as Commissioner and the policies put in place by Mayor Bill de Blasio's administration to promote equity and share policies and best practices globally. One such discussion was about the NYC ID that was put in place to help undocumented immigrants obtain a municipal ID in order to afford more opportunities, especially in instances of domestic abuse. Ms. Abeywardena was also asked about the most recent General Assembly and Pope Francis's visit. She commended the efforts of numerous NYC departments for their seamless execution of security precautions and ability to deal with the infamous diplomatic parking immunities.
One interesting question that was asked of Ms. Abeywardena was about whether it was possible to make a living from participating in non-profit work or whether the private sector was the only viable option for a sizable income. Ms. Abeywardena suggested that working in the private sector was acceptable as long as one tried to make a difference for the better and that it was always possible to return to non-profit work after establishing oneself.
Mr. William Gold, Program Officer of the Bureau of Educational and Cultural Affairs of the US Department of State, followed Ms. Abeywardena with a presentation of the Maxine Gold Scholarship Award, in honor of his late sister. The award was presented to JFEW Scholar Rachel Colomban for her academic achievements.
Other notable speakers included Ms. Sally Crimmins Villela, Assistant Vice Chancellor for Global Affairs SUNY, Ms. Patricia Ellis, President and Co-Founder of the Women's Foreign Policy Group, and Dr. Maryalice Mazzara, Director of Educational Programs of the Office of Global Affairs. The event ended on a joyous note as students of the JFEW SUNY Program were recognized for their efforts as the future of women in international relations. #