INTERNATIONAL STUDIES

American Farm School Celebrates 111 Years of Educating Greece's Youth

School's NY Gala to help harvest support for educational opportunities in Greece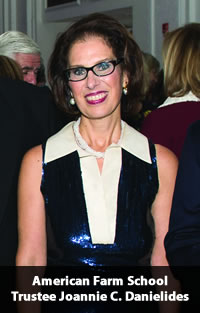 The American Farm School of Thessaloniki celebrated 111 years of educating Greece's youth with a Gala at the Grand Hyatt New York on Thursday evening, October 22, 2015. The event honored Mrs. Aliki Perroti for her magnanimous contributions towards establishing and supporting Perrotis College, a division of the American Farm School. American Farm School Trustee Mrs. Theodora Valentis accepted the award on her grandmother's behalf. Also recognized were Peter Schube, President & COO of The Jim Henson Company and alumnus of the School's community service and travel program for U.S. teens, "Greek Summer," as well as AFS graduate Christos Zafeirakis, and Perrotis College alumnus Alexandros Chatziioannou, who received the School's Young Entrepreneur Alumni Awards. The event was chaired by American Farm School Trustee Joannie C. Danielides.
President Panos Kanellis announced the new Aliki Perroti Educational Center that will be constructed on campus and supported by Mrs. Perroti's pledge. In his remarks, Dr. Kanellis noted that the School cultivates "drive, entrepreneurial thinking and perseverance" in its students. "When these meet ingenuity and a passion for learning, anything is possible."
In attendance were AFS and Perrotis College graduate, Ms. Olga Alagiozidou, who came to the podium to urge donors to support scholarships.Alongside her were Vasilios Prassas, 2010 AFS graduate St. Lawrence University alumnus, currently engaged at Morgan Stanley Bank, and Theodosious Dimitrasopoulos, AFS Class of 2013 now in his third year at Princeton University.
The fundraiser supports quality educational opportunities in Greece. Guests enjoyed an evening of dancing to The Alex Donner Orchestra, as well as a spirited raffle and auction. Proceeds from the event will benefit STEM education and scholarships at Perrotis College that give deserving students from across Greece and beyond the opportunity to pursue their academic and professional goals.
The American Farm School is a non-profit educational institution operating in Thessaloniki, Greece since 1904 and specializing in experiential education and applied research in the agricultural, environmental and life sciences. The School's campus and diversified educational farm serve as living laboratories for students of all ages, from Pre-K to High School, College and Continuing Education, and is widely recognized for its contribution to entrepreneurship and innovation in the agro-food sectors in Greece and the surrounding regions.#