Lin-Manuel and Hunter College High School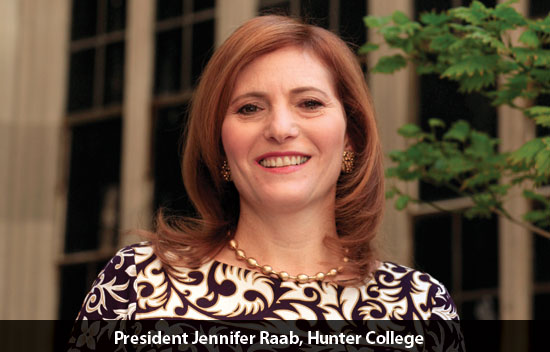 How do you encourage genius?
It helps if someone recognizes it early. Lin-Manuel Miranda was in third grade at Hunter College Elementary School when a book report somehow morphed into a video starring his family. It wasn't the assignment, but it charmed his teacher—and pointed to the creative career that has made him and Hamilton the toast of Broadway.
By sixth grade, Miranda was starring in Bye, Bye, Birdie, and in high school graduated to roles like Judas in Godspell. As a senior at Hunter College High School, he directed West Side Story—which merited a visit from Stephen Sondheim to the awe-struck cast. Imagine how exciting that kind of experience must be for a high school student with dreams of show business success.
We love that Lin-Manuel has become a Broadway star (he also picked up a MacArthur Foundation Genius Award this year), and we're proud of the part that Hunter College Elementary School and Hunter College High School played in his development as an artist. Of course, Hunter High School, among its many distinguished graduates in every field, seems to excel in producing red-carpet stars. Sex and the City's Cynthia Nixon '84 has two Emmys and a Tony, and songwriter Robert Lopez '93, whose credits include Book of Mormon and Disney's Frozen, is the youngest person ever to garner an Oscar, an Emmy, a Tony, and a Grammy.
What's the secret to all this creative talent coming from a public high school in New York City? Miranda '98 has been generous in attributing his success to the encouragement recognition he received in school. And for the students who go on to Hunter College, our acclaimed theatre and music programs are waiting to take them to greater heights.
Miranda, who returned to HCHS after college to take a job as a seventh-grade substitute teacher, has another reason to be grateful to his old high school. Catching up with old classmates on the school's Facebook page, he reconnected with Vanessa Nadal, a classmate he had admired from afar. Now, they're married and the parents of a one-year-old son.
And Miranda, who received HCHS's Distinguished Alumni Award in 2008 (he brought along an a capella group to liven up the ceremony), hasn't forgotten where he came from. Funded by the Rockefeller Foundation, Hamilton will offer $10 tickets to student matinees to allow 20,000 New York City 11th-graders from schools with large populations of low-income students to see the show.
Bravo, Lin-Manuel! We're very proud of you. #