Teachers College, Columbia Law School Institute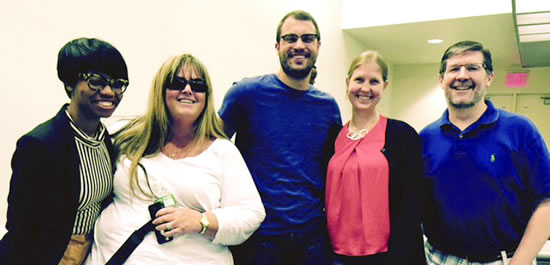 Team of students at Columbia Law School (Patrick McGuire on right)
Earlier this summer, approximately 75 student and educator professionals, interested in becoming more informed on the law in education settings, attended the 27th annual week-long School Law Institute sponsored by Teachers College, Columbia at Columbia Law School.
Institute co-chairs Jay P. Heubert, J.D., Ed.D., a professor of law and education at Teachers College, Columbia and Rhoda Schneider, J.D., general counsel and senior associate commissioner of the Massachusetts Department of Elementary and Secondary Education, have partnered the leadership of the School Law Institute, by inviting scholars and scholar-practitioners, experts in the filed of law and education, to provide its participants with foundational and cutting-edge readings, case study dilemmas, and engaging discussions. The goal of the Institute, Schneider explained, is to "help students, participants, understand and apply the (ever-changing) law and to become legally literate." Furthermore, the purpose is "to help participants become better informed decision-makers."
Education legal experts presenting seminars included: Perry Zirkel, Dennis Parker, Michael Rebell, John B. King, Maree Sneed, Richard Casagrande, Jay Lefkowitz, Gary Orfield, and Patricia Gandara. Each scholar provided a rich selection of readings for students that provided a foundation of the legal issues and set the stage for their presentation. However, it was not only the scholarly presentations, but the provided challenging case studies and discussions that guided students in their critical thinking of the law and education.
The makeup of the students and professionals attending the School Law Institute included: graduate students, teachers, school administrators, district superintendents, school board members, higher education professionals, future lawyers, and a former corporate lawyer. Highlighted interests in attending the Institute included: the use of the law to protect both students and institutions; to better understand the rights students and families have; law and public policy; and "the intersection between policing, punishment, exclusion and the education system."
Education legal issues addressed included: student free speech; search and seizure\drug testing; Section 504 - ADA; issues of race, poverty, and education; immigrants and English learners; internet use and cyberbullying; gender; faculty tenure and teaching responsibilities; child abuse reporting and prevention; teacher free speech; First Amendment issues in school settings; and important, often landmark, court decisions. Participants received a wealth of distributed handouts, however, one of the most important handouts distributed was "School Law: A List of Free Online Resources" compiled by Institute co-chair Rhoda E. Schneider, J.D. This is an excellent tool for future student reference.
Each year students leave the School Law Institute with a more informed understanding of the law and its application to school settings and are better equipped with the tools to lead and assist colleagues in making more sound decisions. The week-long Institute concluded with a graduation ceremony where participants received a School Law Institute Certificate of Attendance.#
Readers interested in attending the 2016 School Law Institute can direct their inquiries to sli@tc.columbia.edu or by calling 212.678.8331.