CAREERS
Pedro Garcia, Veterinary and Clinic Assistant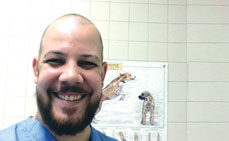 Current Job:
Currently I have been working as a veterinary and clinic assistant at Animal Medical Center on the Upper East Side
College:
I attended college in Puerto Rico with a degree in Surgical Technology. I'm currently a student at Penn Foster Degree School getting a degree in Veterinary Technology. I've been working in my field since I was 17 years old and I've been working in animal hospitals for the past five years.
Challenges:
You never know what's going to be next! There's also a lot of competition in this field among staff.
Salary:
The salary to start is not the best but with continued education and a strong work ethic your income will grow. We don't do this for the money- we do it because we love animals and have a passion for helping pets.
Proudest Moment:
It's hard to pick a particular moment because it's very satisfactory to be part of the whole healing process. If I had to choose one thing I would say I enjoy the vaccinations because then the pet is no longer sick and instead, happy and full of joy.
Advice to others:
Do it because you love animals and have compassion for them… but be ready to feel frustrated too. This job can be sad and you will cry but you'll also laugh because there's great satisfaction in seeing a dog or cat become healthier and happier. #