Enric Sala's Pristine Seas: Journeys to the Ocean's Last Wild Places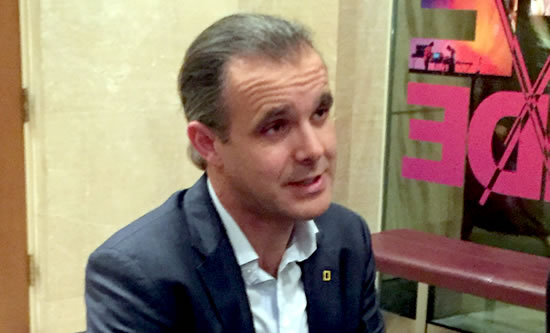 John Muir and Teddy Roosevelt, considered the "Fathers of National Parks" helped to establish and protect U.S. natural resources for posterity to preserve its unique scientific qualities: its wildlife and geomorphological significance, and its educational and recreational values.
Enric Sala, a National Geographic Explorer, has the same deep commitment to enhance our understanding of wild places, and to ensure their protection and status as "parks". It just happens to be under the sea. Sala and his team of National Geographic marine scientists in the Pristine Seas Project (PSP) has explored the world in search of precious ocean areas that seem to have been untouched by human activity. In his quest to identify remote islands with few or no inhabitants, he introduces us to what the oceans were like, before we started "obliterating these sacred grounds". The team's mission is not only to photograph and collect biological data and understand how pristine ecological systems operate, but just as important, the team advances conservation initiatives by working with many governments to establish protected areas. Thanks to the Pristine Seas Project within ten years, over two million square kilometers of ocean are now designated as no-fishing marine reserves. Most recently, the PSP helped to create an underwater national park in the Coral Sea, between New Caledonia and Australia.
In the U.S., NOAA (National Oceanic and Atmospheric Administration) designates, classifies, and maintains the database of Marine Protected Areas (MPAs) consisting of 1800 sites, in addition to at least 12 National Marine Sanctuaries such as Stellwagon Bank, off of Cape Cod, The Florida Keys, and Monterey Bay, just to name a few. Approximately 2% of the world's oceans are under some type of protection.
The Pristine Seas world-wide expeditions traveled to such areas as the Franz Josef Islands, a network of 192 islands in the Russian Arctic, to the Saychelles Islands in the Indian Ocean off of Mozambique, to the Coral Sea off of New Caledonia, to the Northern and Southern Line Islands by the equator in the Pacific Ocean, near Palau and studied the atolls near Costa Rica, Chile, Gabon in Africa. Every continent on the map has been investigated. One of the more notable and historic sites explored were the Pitcairn Islands in the south Pacific, which was the hideaway of Fletcher Christian and his fellow British mutineers, who fled from their Majesty's service onboard the H.M.S. Bounty in 1790. Pitcairn Island, with a population of descendants from the mutineers, one reached about 200, now has only about 50 inhabitants. Despite this very small human population, Sala indicated that there is a disproportionate impact on the local fishing stocks there, when compared to three nearby islands that are uninhabited. There were significantly fewer fish, sharks, and red snapper on Pitcairn Island. This archipelago forms one of the most remote island systems, created from volcanoes that are 8 million years old. Sala, who captivates his audience with humorous as well as death-defying adventures, tells us that the Apollo astronauts made it to the moon faster that it took the National Geographic team to travel from Washington D.C. to Pitcairn Island!
Human activity continues to add to the list of well-documented ocean threats: pollution, overfishing, excessive by-catch, warming trends, and ocean acidification. All of these stressors take their collective toll on wildlife and habitats, but fragile systems can and do restore themselves when there are management interventions and protected zones that allow for stocks to replenish themselves, whether they are depleted fish stocks or compromised coral reef systems. A case study by Dr. Sala revealed a 446% increase in biomass following a 20-year protection plan in the Medes Islands in Spain, Dr. Sala's home country.
The oceans provide us with oxygen, nourish us with protein, are harvested for energy, minerals, medicines, and controls our climate. We pay tribute to scientists like Enric Sala and others who have made their life's work so vital to saving our life-giving bodies of water.
The book, Pristine Seas, published by National Geographic, is filled with stunning full-page photographs of marine life, documenting the exploration of remote places from the arctic to the tropics. Whether snorkeling or in SCUBA gear, or operating a ROV (Remotely Operated Vehicle) or riding in submersibles, Sala opens a window into this water world of mystery and marvel. #