China Institute Courses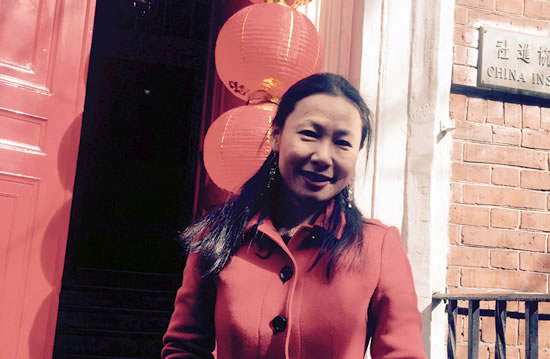 Shenzhan Liao, Director of Education, China Institute
Gallery
Mao's Golden Mangoes and the Cultural Revolution ~ Through April 26, 2015
Around half a century ago during the Cultural Revolution (1966 – 1976), China was in a political "mango-fever." In 1968, after receiving a gift of mangoes from the visiting Pakistani foreign minister, Mao Zedong sent the fruit to the "Worker-Peasant Mao Zedong Thought Propaganda Teams." It coincided with a turning point in the Cultural Revolution from student-leading to worker-peasant-leading. Mangoes, an unfamiliar fruit at that time in China, became a temporary political symbol of Chairman Mao's benevolence and love for the people.
Illustrations and photos of mangoes appeared in publications, paintings, posters and badges, as well as on everyday objects such as mirrors, quilt covers and enamelware. Wax mango models were displayed in glass boxes to express respect for Mao, along with circumstances of the gift printed in red on the cases. By showcasing over 80 mango-related objects, Mao's Golden Mangoes and the Cultural Revolution explores the interaction of material culture and politics during this period. This exhibition is organized by the Museum Rietberg Zürich and is curated by Alfreda Murck and Alexandra von Przychowski. The China Institute Gallery showing of the exhibition has been expanded to include loans from the Collection of Judy Manton and from an Anonymous Private Collector.
Education
For PreK-12 Students:
Chinese for Children Afterschool Classes ~ Spring 2015
Learn Chinese in a fun and immersive environment! Registration for Spring 2015 classes is still open to both current and NEW students! We will be accepting registrations up to the 3rd week of class (February 13th). We are introducing new textbooks to further strengthen our curriculum and to help our students achieve high proficiency in listening, speaking, reading, and writing. 5% discount for siblings.
Children's Outreach Workshops
China Institute's We All Live in the Forbidden City program offers a series of children's workshops that can be brought to schools, museums, and libraries near you. Led by the program's experienced teachers, students will learn about Chinese culture through creative activities, interactive storytelling, animations, and group discussions.
The first two workshops in the series teach children about the life and responsibilities of an emperor, and how nature was the inspiration behind the architecture of the Forbidden City. Please contact us if you are interested in bringing these workshops to your community.

For Adults:
Adult Chinese Language & Studio Classes
The Spring 2015 semester will start on April 13th, with registration opening on March 1st.China Institute offers a wide range of Chinese language classes for students at every proficiency level and with different expectations or goals.
We are pleased to announce the following NEW course offerings in Winter 2015:
Chinese for Heritage Learners (Intermediate)
Reading Chinese Media Texts (Newspaper and Internet)
Lunch-Hour Conversation (High Beginner)
We continue to offer our very popular FREE one-on-one tutoring sessions to registered students while group classes are in session. The tutoring office hours (45 minutes per segment) are available on Monday through Thursday from 10:30am-12:45pm and 5:30-7:45pm.
In addition to the Group Classes, adult learners can also purchase hours from the Private Tutoring Program. The Adult Private Tutoring Program has been designed to meet an individual's specific language needs. Every class can be customized to fulfill any language training goals, from beginner to advanced, across multiple work streams.
In the adult studio program, we continue to offer our long-standing and well-received art and culture courses, including Chinese calligraphy, brush painting and Taijiquan.
Short Course - A Course on the Uniqueness of Chinese (3-Sessions) ~ Starts February 17, 2015
Given by lecturer Ben Wang, this course will explore the musicality of the language and the artistic and ingenious features of the written characters as living images of the Chinese culture. An in-depth understanding of Chinese written characters, their sounds, and the tonal system enables one to grasp the structure of the Chinese language.
For Educators:
Plan for Better Teaching: A Pedagogy Short Course ~ Starts March 8, 2015
"Plan for Better Teaching" (PBT) is a short course designed for in-service Chinese language teachers to learn best practices in the standards-based classroom. Participants will learn key concepts and examine issues related to curriculum development, instruction, and assessment. By engaging in a lesson-plan development project, participants will have the opportunity to: implement lesson plans in their own classrooms and individually discuss their work with Dr. Wei-Ling Wu during mentoring sessions.
Programs & Events
Literati Painting: A Genre Unique to Chinese Culture ~ March 17, 2015
Blending poetry, calligraphy and painting, Chinese literati painting glows as an enchanted garden of art. In this lecture and performance, two masters of the form will be introduced: Qi Baishi (1864-1957), whose art proclaims the triumph of the romantic over the commonplace, and Pu Ru (1896-1963), whose works transport viewers to a realm of bliss.
Renwen Society
Performance: The Legend of Mulan ~ March 5-8, 2015
For the first time outside of China, the Hong Kong Dance Company brings to the stage an inspiring re-telling of the household folktale of love, peace and virtue in a dance drama, "The Legend of Mulan." The spectacular production is presented by The China Arts & Entertainment Group and will be performed at the David H. Koch Theater (Lincoln Center) March 5 - 8, 2015. The Renwen Society supports the performance. Renwen members, including China Institute members, and their friends receive 30% discount on their ticket purchase. Please use the code Renwen when buying your tickets.