Coach K: Mentoring His Way to 1,000 Wins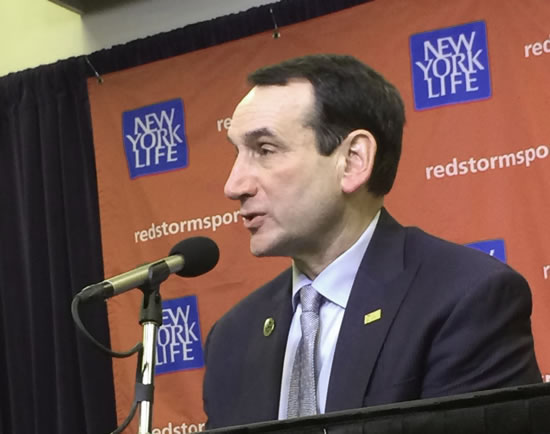 St. John's had just tied Duke at 32-32 late in the first half at Madison Square Garden on January 25th. This was the game where Duke Coach Mike Krzyzewski, holder of the Division 1 coaching record, was supposed to gain his 1000th career victory against an underdog Red Storm Squad.
Having already won four national titles in three separate decades at Duke, dating back to his first title in 1991, Coach K has sustained a level of greatness that ranks him, perhaps, as the best to ever coach college basketball. Still, for Coach K, it's the passion for the game and the relationships to his players and fellow coaches that he's built along the way that seem to mean the most to him. As a player at West Point, legendary coach Bobby Knight mentored him, allowing him to realize the value of connecting with others. He, in return, has counseled countless coaches and players in pursuing their goals in basketball and in life.
When St. John's Head Coach Steve Lavin was given a chance to be the interim Head Coach of UCLA, Coach K guided him by telling him, "The kids deserve you to be 100 percent in the moment and giving everything you have," said Lavin, who ultimately went on to get the Bruin job.
Coach K's former player, long-time Duke assistant, and present Marquette coach Steve Wojciechowski said, "Coach has been an amazing mentor for me. He's just a phenomenal role model in every sense of the word, not just from a basketball perspective, but also from a personal one. I think all the guys that have been around him would echo what I said. He's a very unique person and he's had a profound impact on so many of our lives in basketball and outside of basketball."
At the moment from the upper press box at Madison Square Garden, I looked down at the Duke bench and saw Coach K jumping up and down in the huddle in a defensive stance urging his team to get past the 32-32 tie. A 67 year-old man coaching, well, like he was the interim coach at Duke, wanting to deliver for his players as though this was his first victory and not his 1000th. Everything that I had seen and researched about Coach K had made sense in that moment. He was being in the moment, winning the day, and doing what he does best, teach –even in front of 20,000 people.
The game ended up being anything but an easy win. Against a very athletic and tough St. John's team, Duke ended up coming back from a 10-point second half-deficit to win 77-68.
At the post-game press conference coach K was his normal courteous and reflective self: "As long as I'm doing it, I'm going to bring energy. I want people around me to give me energy, too, " said Mike, who has also won two Olympic gold medals as the coach of USA Basketball. "When my guys started going, it really was beautiful to see them fight and win."
Coach K had done the unimaginable in winning his 1000th career game and his focus was on how his team worked together for this monumental victory. It's no wonder that Coach K has made so many friends along the way.#
Mike Cohen is a sports editor/reporter for Education Update. Mike is also the founder and director of Throwback Sports, an individualized and small-group program for children. He can be reached at throwbacksports@verizon.net.