Barnard College Film Festival:
Jodie Foster Receives Award; Dreamcatcher Documentary Reveals the Struggles of Chicago Sex Workers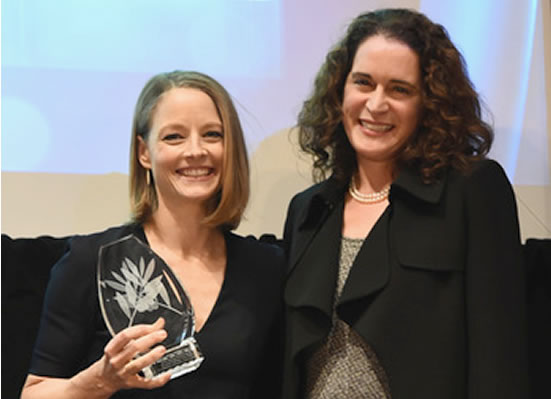 (L-R) Jodi Foster & President Debra Spar
Recently, Barnard University inaugurated its 5th annual Athena Film Festival, a four-day event that celebrates women and leadership. A viewing of the documentary chosen to launch the event, Dreamcatcher, was preceded by the presentation of the Laura Ziskin Lifetime Achievement Award, which is given annually to a woman in the film industry who demonstrates leadership and creativity.
This year, the honoree was Jodie Foster, who was given the award for her groundbreaking film performances and her work as a director and producer. Upon receiving the award, Foster shared some of the challenges she experienced as a woman in the film industry. As a young girl, she wanted to be a director, but she felt discouraged from pursuing her passion because she never encountered female directors. In her speech, Foster explained her mindset at the time: "I thought [directing] was something that I couldn't do, that I never would be allowed to do." However, after her mother took her to a film festival that included selections by female directors, her resolve to become a director reignited. Today, Foster is an acclaimed director and producer, with Directors Guild Award nominations for her work on episodes of House of Cards and Orange is the New Black.
After the award was presented, the festival's opening film, Dreamcatcher, was shown. The documentary centers on Brenda Myers-Powell, a former prostitute who helps Chicago girls and women escape the cycle of sexual abuse. Her non-profit organization, the Dreamcatcher Foundation, has helped over 70 women escape sex trafficking.
In the opening sequence, Myers-Powell drives through the streets of Chicago, looking for women who might be in need of help. When she first talks to prostitutes, she never forces them to accept her assistance, but tells them that they can contact her if or when they decide to leave prostitution. Some of the women she talks to during these nighttime drives have horrific stories of abuse: one of them almost died when she was stabbed nineteen times by a man.
Myers-Powell is no stranger to violence of the sort that the women describe. She was a prostitute for 25 years, but decided to quit after a customer beat her up and dragged her along the asphalt behind his car for six blocks. When she went to the hospital, she was immediately placed in the ICU; after a policeman identified her as a prostitute, one of the nurses pushed her back into the waiting room. The experience showed her that people did not care about her because she was involved in sex trafficking. After successfully leaving prostitution, Myers-Powell dedicated her life to helping girls and women escape the horrors of sexual abuse and prostitution.
The film follows Myers-Powell as she counsels at-risk girls at an after-school program, speaks with women in prison who faced sexual abuse, and helps women transition out of prostitution. Many of the women she meets believe on some level that the abuse is something they deserve; Myers-Powell emphatically tells them otherwise. She never passes judgment on women trying to leave the sex trafficking lifestyle, no matter how long they take to do so. When one of the women expresses astonishment at her patience, Myers-Powell responds that she understands how difficult it is to change, for she went through the same process.
Watching Dreamcatcher was a powerful experience that gave faces and names to the victims of sex trafficking. After the film, Myers-Powell herself went on stage and talked about her goal in making the documentary. She wanted to show that "[prostitutes] are people too, and they're worth saving." The film accomplishes this, and makes a compelling case that we should be less judgmental and more compassionate with others, no matter their path in life.#
For more information about the Dreamcatcher Foundation, visit http://thedreamcatcherfoundation.org