Baruch College Remembers Burton Kossoff '46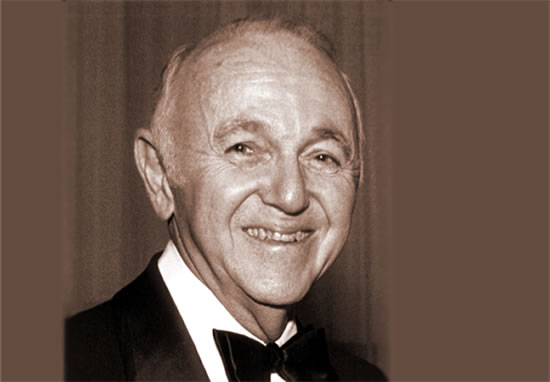 He was a gentleman in the finest sense. He lived his life with optimism, devotion, honor, and courage. He loved people and recognized the inherent potential and dignity of all human beings. He dedicated his life to his beloved wife, Phyllis, their children, Stephanie and Mitchell, and the causes dear to his heart.
As a young man, Burt served his country as a first lieutenant in the US Army Air Forces during World War II. He was awarded the Distinguished Flying Cross, the Air Medal with six oak leaf clusters, and several Battle Stars, in recognition of the nearly 40 combat missions he flew in the Pacific. Throughout his life, he felt an enormous affinity for those who served their country.
Burt was a graduate of Baruch College and an inaugural member of The Baruch College Fund, serving as a trustee from 1970 to 1990, and later as trustee emeritus. Active in student affairs, he was elected to Sigma Alpha DELTA (MC) and Beta Gamma Sigma business Honor Societies. He was a member of the Spanish Club, vice president of the Veterans Club, and served on the staff of The Ticker school newspaper and the Lexicon yearbook. In 1946, he received Baruch's prestigious Monroe D. Franklin Award to a returning veteran, in recognition of his scholarship, integrity, and heroic service to his country.
As a Baruch alumnus, Burt sustained his dedication to his alma mater with the same energy and commitment he demonstrated as a student. During his tenure on the board of trustees, he served as secretary and as member of the executive and minority business committees.
When their daughter, Stephanie, was born with cystic fibrosis (CF), Burt and Phyllis were instrumental in raising funds for research and care programs for cystic fibrosis. Their continued efforts contributed to raising the average life expectancy of children with CF from three to five years to 37 years, today. An active member of the Cystic Fibrosis Association of Greater New York, Burt served as vice president, industry chairman of the fundraising program, and member of the Board of Directors.
Burt's commitment to service was seemingly limitless. He was also past (FORMER MC) President of the Young Presidents Organization and Business Men's Club of the YMCA, and was an active member of the American Legion, New York Athletic Club, Inner City Handball Association, Temple Emmanu-El, and Park Avenue Synagogue.
An astute and perceptive businessman, Burt founded the Burton Packaging Co. Inc. in 1949, serving as its president and CEO for more than 50 years. The innovative company was a pioneer in the field of packaging.
Burt touched the hearts of all who met him. His is an example of a life well lived. His professional success, his devotion to his family, and his commitment to service has made him an excellent role model for Baruch students.
Mrs. Phyllis L. Kossoff created the Burton Kossoff Business Leadership Lecture Series in August 2003 in memory of her beloved husband and his commitment to his alma mater. Each year, the lecture series invites prominent business leaders to share their perspectives on the most pressing issues in business. Members of the Baruch community gain valuable insight into the qualities and strategies of today's most successful business leaders. #