EXCLUSIVE INTERVIEW
President Shael Polakow-Suransky, Bank Street College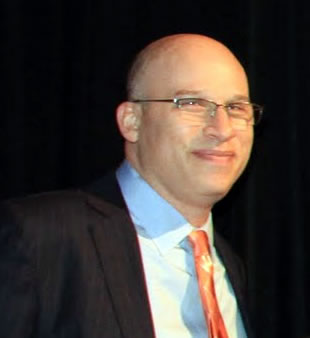 Earlier this year, Shael Polakow-Suransky was installed as the new president of Bank Street College of Education. Himself a Bank Street graduate, Suransky has had a unique and diverse career that began with teaching middle school and social studies about twenty years ago. He eventually rose to become an assistant principal and finally, the principal at Bronx International High School. Soon after he became Senior Deputy Chancellor and oversaw all instructional work in the city under Dennis Walcott. After three years in that role, Polakow-Suransky began his tenure at Bank Street. "I have a very unique perspective on teacher training and I have very strong beliefs about how important it is," he said.
According to Polakow-Suransky, Bank Street was founded initially as an education non-profit in 1916, called the Bureau of Educational Experiments. The first of its kind, it brought together nurses, psychologists, educators and other professionals to try to understand and develop a theory about how young children learn. This work eventually led to the creation of a school and a graduate school which became the current Bank Street College.
So far in his new position, Polakow-Suransky has yet to come up against any serious challenges. "I have found a very wise group of seasoned educators. One of the unique aspects of Bank Street is that we have many practitioners on the faculty who are grounded in what it's like to become a teacher or principal," he said. "The greatest challenge facing the field of teacher education is to develop systems that ground our work so the training we provide is truly useful for graduates when they go into schools." He said a strong connection between teacher and leadership training programs and school districts is key, citing the 'diploma mills' some education schools have become. "They haven't designed their programs to meet the needs of their students or the schools they're going to," he said. Bank Street prides itself on having a close relationship with schools. "Our work is rooted in the belief that you really need to understand the specific needs of children and adults in order to teach them effectively."
Polakow-Suransky has an international perspective to share. He was born in South Africa, and after moving to Michigan as a baby returned to study in Durban, South Africa in high school and again in college. The school he volunteered at in Durban, Phambili High School, was known for taking in students that had been removed from government schools due to their political activism; most students' were local leaders in the anti-apartheid movement. "The classes were made up of some of the most dynamic teenagers I had ever seen and it taught me what is possible when young people are empowered and learn to take responsibility for their peers." he said.
Of his current job at Bank Street, which he described as a true dream job, he said, "I am learning a tremendous amount." He also spoke highly of early-childhood teachers, citing an experience he had last spring where he spent two weeks observing in Bank Street's Pre-K classrooms. "Working with four year olds is challenging and exciting," he said, "I have so much respect for early childhood teachers, but to become a great teacher you need lots of training, coaching and support."
"Becoming a teacher is a transformative process for anyone," According to Polakow-Suransky, Bank Street prepares students to become superb teachers and leaders through their sensitivity to how children and adults learn and develop. "Students who attend Bank Street are known well and supported every step of the way, by our experienced faculty. It's an amazing experience," he said. #