Remembering the Tragedy of 9-11: Personal Recollections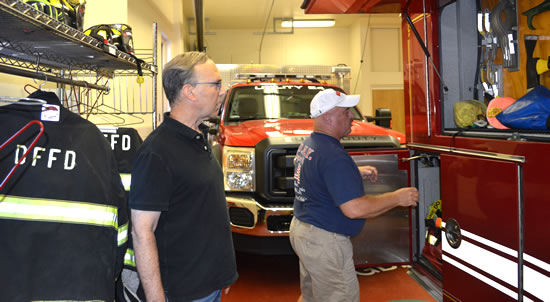 (L-R) Wayne McPartland and Frank Farrington
Frank Farrington, lieutenant of a firehouse on the Upper West Side, was running late to work on September 11th, 2001. Don Imus was on the air and was discussing unrest in the Middle East. When Farrington got to work, a fellow fireman told him that a plane had just hit The World Trade Center and that "A lot of firemen are going to die today." An animated dispatcher's voice leaked through the radio. At first Farrington thought he was watching a replay on the news but soon heard that the second tower had been hit by another plane. Farrington's engine immediately was called downtown along with Ladder 25. None of the men of Ladder 25 would make it home that day. As they rode downtown, Farrington watched the towers burn through the windshield. Once they got there, Farrington and his fellow fireman huddled under an awning to put on their gear away from the raining debris. The men watched as people dove out of smoldering windows. "Each bang was the sound of death," said Farrington. A team of firemen tried to enter the building but the falling bodies blocked them. Within seconds the whole building collapsed. The news of the Pentagon attack spread around. Another inbound plane was said to be missing. "The world was falling apart," said Farrington. As glass started spewing from the collapsing buildings, Farrington ran into a nearby garage for cover. A cloud of black smoke chased after him and swallowed all visibility. Farrington hooked his search rope to a nearby exit door and led over sixty civilians and fireman up a staircase and away from danger. "That staircase was my transition from the pre-9/11 world to the one we live in today," he said. When Farrington got outside, he said it was like a blizzard. A silence came over the city as white stacks of tax returns, invoices, and employee records covered the cement. People found paperwork from the twin towers in their backyards in Brooklyn. Farrington's wife got a call mid-day from a fellow fireman informing her that her husband was okay. She broke down in tears in her office and dialed over twenty people with the good news that hundreds of other families of firemen never got that day.
Remembering the day, Wayne McPartland, a chief in the New York City fire department said, "It was a beautiful day, sunny and clear." He and the other fireman were sitting around with bagels and coffee when they first saw the 110-story tower crumble on the screen in front of them. McPartland recalled a New York Times article he had read a few weeks prior surmising that Al Qaida was planning something big but that the US intelligence still did know what it was. "I thought it might be an attack instead of an accident," he said. McPartland and his company, Ladder 218, crossed an empty Williamsburg Bridge into Manhattan. "Floor the gas and get off this bridge," McPartland said to the fireman driving the truck. Threats of additional attacks had been floating around. They entered into a black cloud of smoke that blotted out the sky. "Day turned into night," said McPartland. He turned to the fireman driving the truck and said it had been nice knowing him. "We needed that dark humor to get through it," he said. A wife of a fireman from Engine 55 got in touch with McPartland to find out if her husband was okay. McPartland knew that all of the men of Engine 55 had been killed, except for the chauffeur but they are not allowed to give out any information over the phone. "I wish I knew," he said to the hysterical woman. Children were screaming "daddy" and sobbing in the background. The wife shrieked at him for lying to her. "I wish I knew," he said again. "Tears were coming down my face as I lied to her," McPartland said. Four days before 9/11, McPartland was working overtime in Ladder 105 on Dean Street in Brooklyn to cover his good friend, Vincent Brunton. Brunton told McPartland that he had finally gotten permanently assigned to Ladder 105 as a captain. He wouldn't have to bounce all over the city anymore. As he walked to his car to drive home, he called out, "I'm so happy here at 105. I'm going to stay here as captain for the rest of my career!" McPartland waved goodbye to his friend, calling back, "Good luck Vinny!" Brunton died on 9/11.
Over 3,000 people died on 9/11, 343 of them were firemen from every rank. Chief of Department, the highest ranked position in the FDNY, lost his life. Firemen spent over a year after the attacks moving debris and searching for bodies. It took months just to completely put out a fire that reached five-stories into the ground and reduced two 110-story towers into a black, shivering three-story silhouette.
Crowds of people clapped as firemen went in and out of the disaster. The fireman's memorial on the Upper West Side that honors, "Soldiers in a war that never ends," was framed with flower bouquets and bright candles. McPartland said that after the attacks, cars would pull over right away for fire trucks. "The whole country was so connected that day," said Farrington. "Too bad we can't be like that more often." #
Frank Farrington is now a volunteer fireman in Dobbs Ferry, New York.
Wayne McPartland hosts a television show, Two Steps to the Left, on Pleasantville Community TV (PCTV 76 or http://www.pctv76.org/). He is also working on a memoir about his 33-year career in the fire department.