THE ARTS IN EDUCATION


EXCLUSIVE INTERVIEW
Susan Weil, An Artist's Journey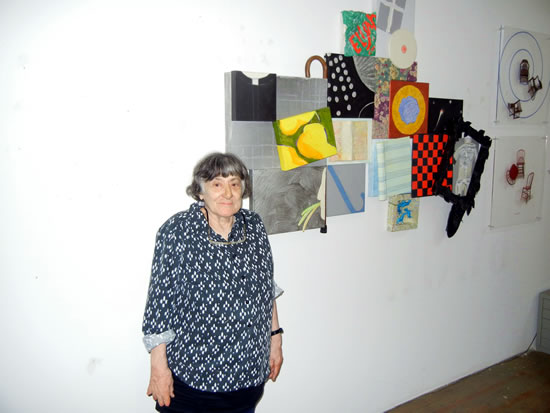 Art by Susan Weil
Artist Susan Weil, now 84, has had an amazing career. Her associates have included such luminaries as Robert Rauschenberg, a spouse for a few years; Josef Albers, her influential teacher; and fellow students at Black Mountain College such as Willem de Kooning, Merce Cunningham, Buckminster Fuller, Ben Shahn, Cy Twombly, and John Cage. She has been married to artist/architect Bernard Kirschenbaum for many years. Still working, she continues to produce fresh, inventive and exciting projects. Rachael Inch, an assistant at her large, airy Williamsburg studio, reports, "I am still amazed. Every day she comes in, something is created. She is so inspiring to be around."
Born in New York, Weil knew in high school that she wanted to be an artist. Influenced by teacher Aaron Kurzen at the Dalton School, she went to study in Paris at the Academie Julian where she met Rauschenberg. Looking for a school that focused on art, she discovered Black Mountain College, a new, Dewey progressive institution in Ashville, North Carolina that emphasized collaboration between the arts, strong community, and shared responsibilities (including growing and preparing food and cleaning chores). Established in 1937, Black Mountain would go on to attract those who became seminal figures in the arts, including dance, music, writing, visual arts and architecture. The college grew as Nazi Germany cracked down on intellectuals and modern artists and closed the Bauhaus, causing many artists, including influential painter Josef Albers, to flee. In time Albers became a professor at Black Mountain.
Weil knew the she wanted to attend Black Mountain and was an admirer of Albers' work. She came to North Carolina with her friend Rauschenberg. There she discovered a sense of community that was vibrant and exciting. The philosophy of Black Mountain, openness to new ideas and no boundaries between the arts, is portrayed in Weil's work. After college, in a world where Abstract Expressionism prevailed Weil said everything about painting went out the window.
She created her own dynamic style that includes mixed media, assembling and reassembling, photography and new ways of printing, figurative references, multiples, construction and deconstruction, collage, layering, and plays on time and motion. "Technology? I certainly use it," she explains, pointing to "Rotato," a constantly rotating column covered with messages in mixed media. "I love to explore in every direction. Everything is interesting." An accomplished poet as well as visual artist, Weil often combines words and letters with pictures. She is currently working on a project that pairs her images with writings from James Joyce, a favorite author. It will be presented as a book titled "Shut Your Eyes and See," a quote from Joyce, and is mainly intended for libraries and museums.
An exciting and inventive artist, still in the thick of it, Weil has seen many changes during her long career. Being a female artist was tough at the beginning; she had to fight for recognition, joining women's organizations that picketed galleries only showing the work of men. She has had the opportunity to collaborate with her son Christopher Rauschenberg, a photographer, and her daughter Sara Kirschenbaum, an artist and writer. As for today's crop of artists—"I love many kinds of work, not just one thing. I love that social media allows you to have dialogues with artists." She advises the young to "make your own journey and figure out who you are." Susan Weil's attitude and practice is an inspiration to educators and a boost for collaboration between the arts and other subjects. #