Inaugural Class of Guttman Community College Celebrates Commencement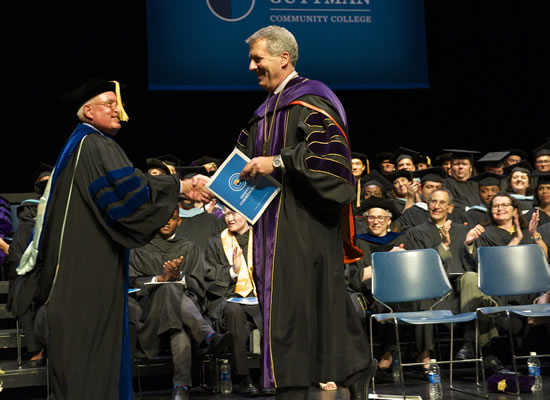 President Scott Evenbeck and Chancellor James Milliken
Caps, gowns and Edward Elgar's Pomp and Circumstance are symbols of an honored academic tradition. Families, friends, professors and mentors gathered to celebrate 2 years of hard work as eighty students walked in The Gerald W. Lynch Theater at John Jay College ready to turn their tassel, throw their caps and remember a journey. These are not John Jay students; they are the first class of Stella and Charles Guttman Community College (GCC) – the self-named "Guinea Pig" class.
The Inaugural Class of GCC celebrated their commencement on August 27, 2014, making this the first graduation for GCC.
After 17,500 hours of hard work, ninety percent of the students are going on to a four-year university to further their education, sixty-four percent are attending a CUNY school. The numbers do not stop there. Twenty-three students graduated with honors, proving their hard work led to success. But on top of this all the first-ever class of GCC had a 74-percent retention rate compared to the nation's 30 percent retention rate for community colleges. GCC, the new community college in Manhattan, is a force to be reckoned with.
A class filled with integrity and discipline thanked family and friends for their support throughout their journey by turning around and applauding.
Bianca Castro, GCC graduate said the night was a reflection of two years of struggles, hard work and success.
"We were the willing guinea pigs that set high expectations for an institution that allows freedom of thought and expression," said Castro. "This diverse community has allowed the progression of our character."
Kristine Anne Perez, valedictorian, said the Class of 2014 has set the standard for future students of Guttman. "The bar is high."
She called her class to look around the last scene of their journey from Guttman, asking them to thank their family, friends and peers for celebrating a milestone.
Faculty speaker, Dr. Nicole Saint-Louis called the class sensational telling them their graduation was a remarkable event.
Saint-Louis reminded the class not to rush through life, but to slow down and enjoy the journey to come. She spoke on behalf of the entire administration sharing faculty pride. President Scott Evenbeck proudly presided over the graduates, beaming at their achievments.
The commencement was well attended with Manhattan Borough President, Gale Brewer; Chancellor of City University, James Milliken; and Alfonso Berry, Vice Chairman of the Board of Trustees of City University New York. All of them gave high praise to the institution, faculty and graduates.
The night marked a celebration of hard work, but reminded the students they have more journeys ahead. Community colleges allow students to obtain a college education and improve their lives. This night provided evidence. #